What is Business Intelligence?
Business intelligence (BI) is a system designed to empower better decision making. BI tools quickly analyze your business data – turning it into actionable insights in the form of digestible reports, performance measures, and trends that can be shared across the company.
Benefits of Business Intelligence:
Access faster, more accurate reporting to measure and track performance
Gain a better understanding of both risks and opportunities
Set meaningful benchmarks to help your business succeed
Operate more efficiently and reduce business costs
Help your business maintain a competitive advantage
Create better experiences for both employees and customers
An Opportunity to Improve the Return on Investment for Business Intelligence
Over the past 20 years, a $600 million industry of external research and data providers has emerged to fill the growing need for extensive market and business intelligence targeted toward asset managers. Providers of all shapes and sizes have sprung up and now populate the landscape with an array of options and service levels. The wide range of providers unquestionably means more choice and flexibility for asset managers, but it also can make it harder for them to identify the best fit for their needs. This report outlines the current state of the market and proposes a way to optimize the spend on business intelligence.
For providers, the increasingly competitive landscape brings their client relationship capabilities to the forefront. One thing is certain: providers that are unwilling or unable to adapt their product lines and service techniques will struggle as asset managers seek out providers that offer a broader and more flexible range of services that meet changing client needs.
How Does Business Intelligence Work?
The asset management business is highly complex and constantly evolving, with the most successful firms finding ways to anticipate the needs of a changing and diverse clientele. The need to stay at the forefront of market trends, investor habits, government regulations, and new product development requires firms to cultivate an underlying and sophisticated market intelligence machine.
The following diagram is intended to illustrate the ways asset management businesses and firms process the market intelligence they buy from the range of outside sources. Some firms have a centralized research group that oversees buying decisions, as well as research dissemination throughout the enterprise. Others use a more decentralized model in which individual business units buy their own intelligence from sources they select. Either way, firms typically apply their own metrics and analysis to the information to turn it into their own brand of actionable business intelligence.

Source: Broadridge Data and Analytics, Verge Advisory
"Research and data gets bought at the business level, but it often never gets shared more broadly in the organization" - SURVEY RESPONDENT

Waste not, Want not
Given the large number of research/data providers and the vast sums of money being spent, asset management executives are starting to take a step back and question whether they are getting the best bang for their buck. For that reason, Verge Advisory launched an exhaustive study of the community of research and data providers that specialize in all manner of intelligence gathering on behalf of asset managers.
In addition to compiling groundbreaking market definition and sizing information, Verge found that about a third of the aggregate research purchased (approximately $200 million) is being either under-utilized or in some cases, completely wasted. Firms have been busy consolidating providers and cutting back on research, but our study shows that many firms could undoubtedly be squeezing far more value out of the money they are spending.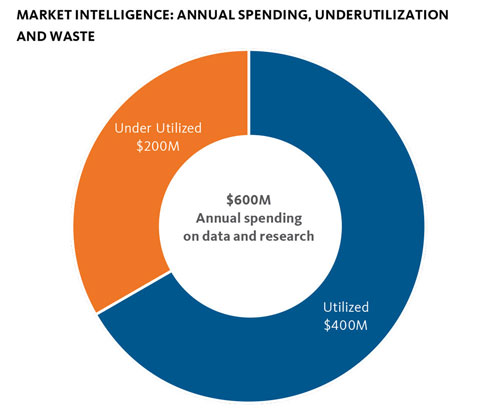 Source: Broadridge Data and Analytics, Verge Advisory
Does the Left Hand Know What the Right is Doing?
From our interviews with more than 60 executives that engage the services of external research and data providers, we learned that not one of them could pinpoint exactly how much overall their firms were spending on external intelligence gathering. That's because firms typically have no mechanism in place for calculating that sum. The organizational structure for most firms simply does not lend itself to keeping up with research expenses. Lack of coordination between business units, budget vagaries, lack of transparency and ineffective processes all contribute to underutilization and wasted resources.
Our research also showed that while many firms have centralized research groups for coordinating intelligence purchases, there is no uniform system for this. External providers are left to navigate the unique hierarchy of each of their client firms, and the firms say that providers are not always doing a great job at this.
What's the Good News?
On a positive note, we found evidence that firms are starting to zero in on ways to root out waste by consolidating the number of external providers they use. Relationships with providers were discontinued for a variety of reasons including: one-off report purchases, discrete timeframes, custom projects, previous employer practices or quality control issues.
External vendors may be discouraged by this, but it's good news for firms. Fewer relationships are undoubtedly easier to manage. Also, firms will likely be able to negotiate more favorable terms with the providers that they use for more of their needs.
Finally, they will be better able to focus on the few providers that make the most sense for their specific needs. The typical firm in our research universe told us they used on average 10 total external vendors for their market intelligence needs – six of which are research providers and four that specialize in data.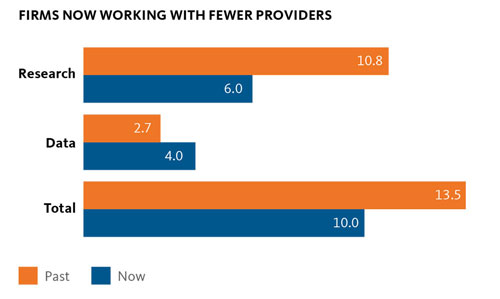 Source: Broadridge Data and Analytics, Verge Advisory
Analyst Note: "Past" does not automatically equate to dropping a provider for quality reasons. While this was often the case based upon our discussions, it could also mean users purchased a one-off report, commissioned a one-time customized project or used a provider at a prior firm.
Since this was the first time this research was conducted, we were not able to plot historical usage information. Instead, we asked survey questions on past provider relationships. Users reported they'd had past relationships with an average of 13 providers, ten of which were research and three of which were data.
"The mentality has shifted from 'let's buy something in case we need it" and then it sits on the shelf, to 'let's buy it when we need it." - SURVEY RESPONDENT
More Data, Please
Although firms told us that their total number of providers was down, the average number of data providers actually rose slightly higher. This small uptick was part of a broader trend toward a preference for data. The executives we interviewed expressed a strong value preference for data over research, with a combined high/very high rating of 81% for data compared with 67%.
This 14% differential underscores an industry movement gathering steam. The trend toward data is being fueled by advances in technology, such as business intelligence software. Firms have a desire to track activity in detail as often as possible and are leaning toward tactical tools. They have a need to justify expenditures tied to specific projects, versus more general nice-to-have thought leadership and background material.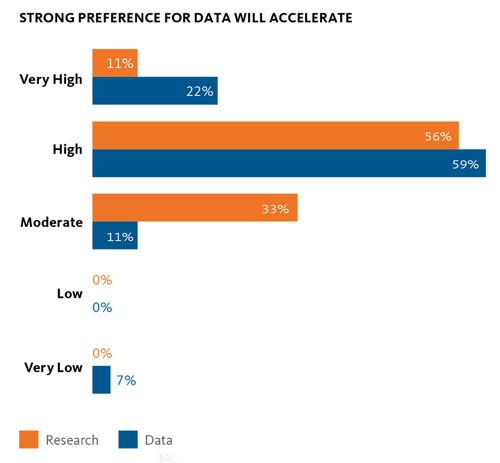 Source: Broadridge Data and Analytics, Verge Advisory
"We are not interested in large-scale 'research-by-the-pound' reports. Just give us the data, and we can figure out what we need to know by ourselves." - SURVEY RESPONDENT
The greater value placed on data, and the firms' need to integrate provider data with their own sales and transactional data will become one of the strongest forces shaping the market intelligence business in the next five years. Verge expects this preference for data to accelerate as organizations grapple with solutions to blend data feeds from various sources with their internal business intelligence platforms. We feel gains made here will come to the detriment of more qualitative researchers, especially in terms of thought leadership or strategic offerings. Budgets are too tight for firms to be stockpiling vast amounts of background material.
Finding the Glass Slipper
Despite the clear preference for data over research, Verge Advisory counted nearly three times more research vendors than data providers – affording firms more choice to experiment with providers to find the ones that best fit their needs. Nonetheless, we found that firms are not always using the ideal research or data provider to fit their needs. Many firms have no familiarity with a large chunk of the provider universe. This is especially true when it comes to those offering niche expertise in markets a firm may sorely need. This lack of familiarity is often preventing firms from finding the best fit for their needs and the greatest value for their dollars.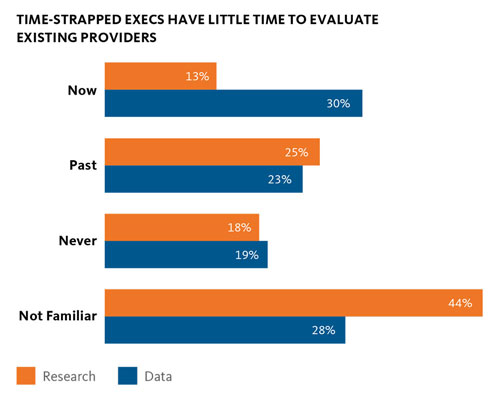 Source: Broadridge Data and Analytics, Verge Advisory
The bottom line is that firms are totally unfamiliar with a significant percentage (72%) of research and data vendors that provide market intelligence to the asset management industry. This leads us to believe that even the most expert market intelligence users within firms are mired in their daily business activities and may be unaware of additional providers that could be better suited to meet their needs.
Building a Better Mousetrap
The goal of Verge Advisory's research was to bring clarity to the market for intelligence gathering within the financial services industry. As part of this effort, we introduced a tool to assess whether firms are benefitting commensurately with their expenditure on external research and data. We call this tool ROBI (Return on Business Intelligence).
"There is so much wasted spending, plus an opportunity cost to people hoarding rather than acting on the material." - SURVEY RESPONDENT
In addition, we have compiled the most complete roster and evaluator of research and data providers ever assembled to describe this market. Our hope is that shedding light on this part of the business will help firms find providers that are a better fit for their needs so they can make better use of the money they are spending.
The Need for ROBI
Business leaders are painfully aware that what does not get measured often does not get managed. Unfortunately, the concept of return on investment in terms of market intelligence spending has eluded management at many of the firms we interviewed.
As we've described throughout this report, most firms have little to no process for quantifying the value of their spending on market research and databases. Moreover, the firm's systems and processes are not being used to turn purchased data and information into knowledge and action to the extent that they should or could be.
Considerations in ROBI Assessment
Total firmwide spending on market intelligence
Usage information
Organizational structure of the firm
Processes related to information dissemination and renewal
At the same time, tight budgets have led to greater scrutiny on all expenditures. Firms must enact a system for monitoring and evaluating their external market intelligence purchases to ensure that their spending levels are worthwhile and appropriately aligned with their overall business goals.
Verge has developed a tool to help guide firms to find their ROBI and the gains that come with it. Firms must not only have the right mix of external market intelligence providers and services, but they must also have a strong sense for which providers can help staffers do their jobs most effectively.
ROBI dimensions incorporate total spending, measurement of usage, organizational structures and a range of processes related to information dissemination, renewals, gatekeepers, power users and more. All information should be presented visually to allow senior management to easily note the relationships, both in terms of cost savings and unlocking potential.
In a hypothetical example intended to illustrate the ROBI concept, the following depiction shows the $190,000 of spending for the user firm (based on Verge's synthesized survey data) fell into the low usage and low value quadrant. This figure translates into 38% of the firm's $500,000 budget. This percentage is in the neighborhood of the 33% underutilization rate collected from our survey of industry users. Subsequent action steps to cancel, redeploy, add or deepen provider relationships should result in a mix of significant financial savings and unlocked potential.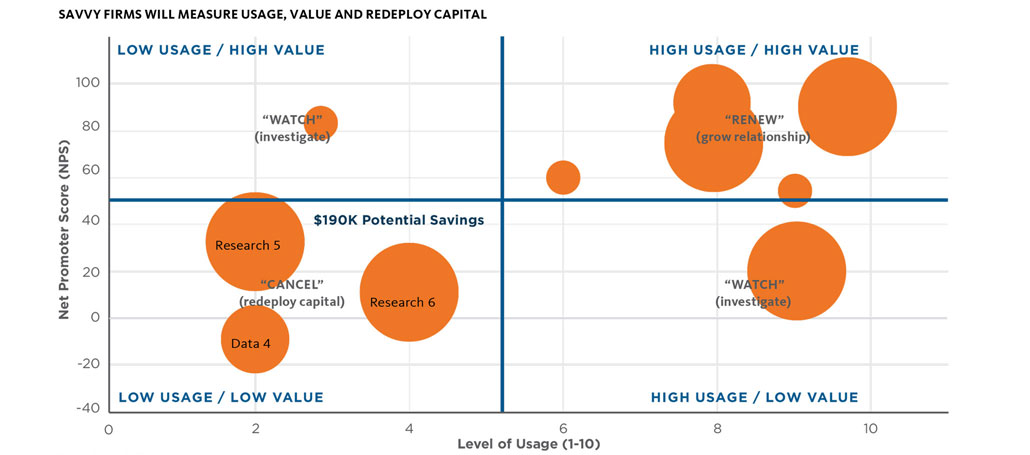 Source: Broadridge Data and Analytics, Verge Advisory
Analyst Note: Visualization represents hypothetical financial services user firm with industry average of 10 provider relationships (6 research, 4 data) and annual spending of $500,000. Bubble size represents spending on each provider (ranging from $10,000 to $80,000). Providers falling in the quadrant for low usage and low value equate to $190,000 of spending or 38% of budget that could be redeployed. The average industry underutilization reported by users in our survey is 33%.
Ideally, this provider assessment should be performed along with a gap analysis of available providers in the marketplace. It should also include an evaluation of internal workflow and processes. Collectively, this approach will guide the firm's efforts to increase ROBI and the benefits that will follow. Using this process will allow firms to focus on using a smaller roster of providers that integrate their data, analytics, research and consulting needs to position them optimally in serving the marketplace.
Action Steps
Choose your external intelligence providers wisely.
Make an enterprise-wide research budget and coordinate expenditures throughout the firm.
Encourage research purchasers within the firm to share their intelligence widely between business units to make the most of your expenditures and to prevent overlap.
Create a process for measuring ROBI and stick to it.
Abandon research providers and consultants that translate into low value for the firm.

For insights and support, consider contacting your Broadridge Account Representative by calling +1 866 359 0456 or visiting us online at distributioninsight.broadridge.com.