Intraday repo empowers your firm to navigate liquidity spikes confidently by providing the option to self-fund for short durations, effectively neutralizing the financial impact of sudden fluctuations.
Our financial solution redefines funding flexibility. With both start and end legs settling on the same day, this innovative trade operates within various time intervals, granting your firm the agility to fund its needs in minutes to hours.
Through Intraday Repo, the Cash provider gains additional access to cash deployment while enabling the Collateral Provider the ability to buy Intraday Liquidity at a discounted cost vs DLOD.
Unlike traditional repo rates, cash lenders receive fees tied to their principal investment, calculated dynamically for each minute the loan remains active. This unique approach ensures optimal returns.
Intraday repo transactions powered by DLT-based solutions eliminate most daylight overdraft fees, reduce other operational costs, and minimize counterparty risk. The ability to easily access funds for minutes or hours over the course of a business day will radically enhance efficiency in cashflow management, creating new opportunities for sell-side firms to optimize their deployment of cash and collateral.
Intraday Repo on Distributed Ledger Repo (DLR)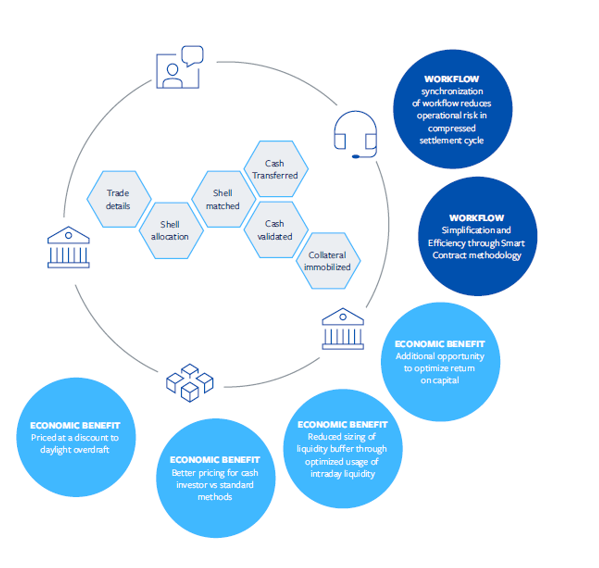 Intraday Repo Benefits
Collateral Provider
Addition tool providing greater funding flexibility – potential to convert Overnight trades to Intraday
Priced at a discount to Daylight Overdraft
Reduced sizing of Liquidity Buffer through optimized usage of Intraday Liquidity
Cash Provider
Additional access to cash deployment opportunities to optimize return on capital
Better pricing for investment of cash vs standard methods
Cash provider not required to take delivery of assets leading to reduced fails risk