The industry contains more complexity and uncertainty than ever. It's too hard to navigate on your own. Distribution Insight delivers the analytics and strategic expertise you need to stay in front of fast-moving trends and make more informed, confident decisions. Track asset flows, measure market share, identify opportunities and benchmark sales performance across U.S. and global markets. Partnering side-by-side, we'll help you create a distribution strategy to execute on every opportunity.
Ready for today. Ready for tomorrow.
See the whole picture.
Covering retail and institutional flows across every geography and every vantage point, Distribution Insight helps you understand market share, product sales, best opportunities and advisor preferences.
Rely on the most trusted data.
Our data is expertly curated via proprietary data aggregation processes, drawing from multiple data sources, including the most robust consortium of asset managers.
Answer key business questions.
Analyze, evaluate and explore data, then visualize trends by segment, channel, market, demographics, asset class and more.
Gain a unique perspective.
Put your world into context with industry-leading research, analysis and commentary from a team of in-market experts.
Turn insight into action.
Connect the last mile between data and execution. Let our strategic consultants help you perform advisor segmentation and journey mapping to unlock new opportunity and maximize distribution.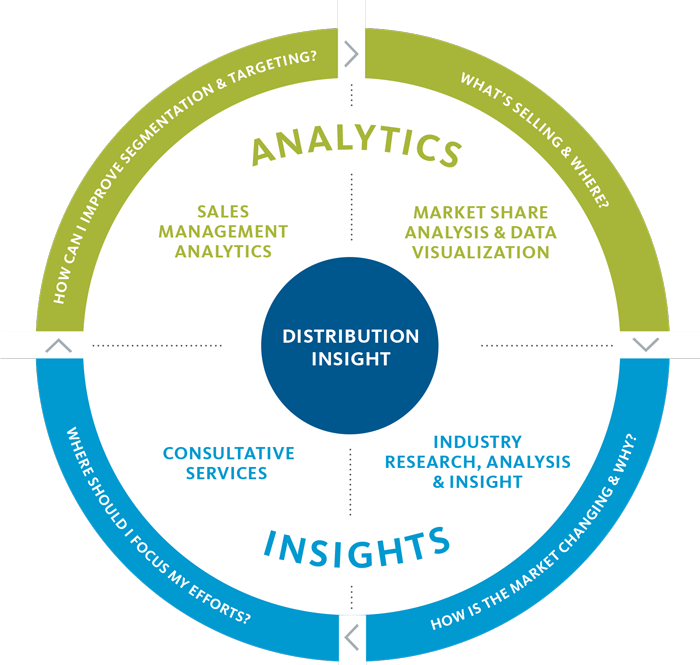 The complete picture, delivered.
Navigate complex markets with confidence.
A single, intuitive platform enables you to
Access comprehensive data sets
Perform custom analyses
Generate presentation-grade charts and graphs
Market Share Analysis and Data Visualization
Global Market Intelligence
Analyze over $60 trillion of global retail and institutional assets, including assets and flows for cross-border funds.
Market Analytics
Access industry fund and ETF assets for third party distribution channels to understand market share and industry flows sold through RIAs, broker-dealers and banks.
Sales Management Analytics
Sales Analytics
Understand product sales trends with dynamic daily transactional data to analyze territory sales, manage your sales team and market your products.
Opportunity Hunter
Arm your sales team with a unique analytics tool that expedites the sales process and identifies your firm's best prospects.
Our team of experienced experts deliver:
Authoritative perspective on emerging market trends
In-depth analysis and commentary
Hands-on, strategic consulting
Industry Research, Analysis and Insight
Product Prism
Find in-depth dissection of market opportunities, product development trends and competitive dynamics by investment categories, as well as passive and active product strategies.
Distribution 360
Get a 360-degree view of distribution intelligence covering global market opportunities.
Channel Navigator
Tap into deep analysis, research and forecasts focused on a specific market segments. Channel Navigator includes an annual report and workshop session with your staff.
Consultative Services
Key Drivers of Success
Get custom intelligence with bespoke survey and market research that reveals key drivers of success in sales, marketing, product and pricing.
Advisor Segmentation and Journey Mapping
Leverage proprietary data to achieve deeper understanding of your target audience via granular segmentation based on advisor goals, needs and preferences.