Broadridge Anti-Money Laundering Solution (AMLS) is an ideal solution for firms and institutions looking to enhance their existing AML surveillance so they can detect illicit money flows and, as a result, decrease their exposure to criminal threats. Broadridge's solution leverages innovative techniques such as Automated Machine Learning and Federated Learning to reduce false matching and realise productivity gains while mitigating risk. In combination with other IA technology, Broadridge can significantly generate gains and reduce risk by providing full end-to-end analytics tools.
The AMLS accurately detects complex money laundering activites and triages system alerts through a Smart Alert Management (SAM) system.
KEY CHALLENGES IN THE INDUSTRY
Inadequate measures in KYC analytics.
Anonymity concerns with proxies in use to open accounts.
Rapid movement of illegal funds to evade safeguards, possibly using multiple accounts.
Obscuring the transactional purpose by disguising their money laundering efforts.
Utilising regulatory blind spots to transfer funds between jurisdictions.
Siloed AML programs with limited shared information.
Static solutions in place that are unable to adapt to complex and evolving laundering techniques.
"Money laundered annually stands at $1.6 to $2 trillion. Less than 1% of this laundered money is traced."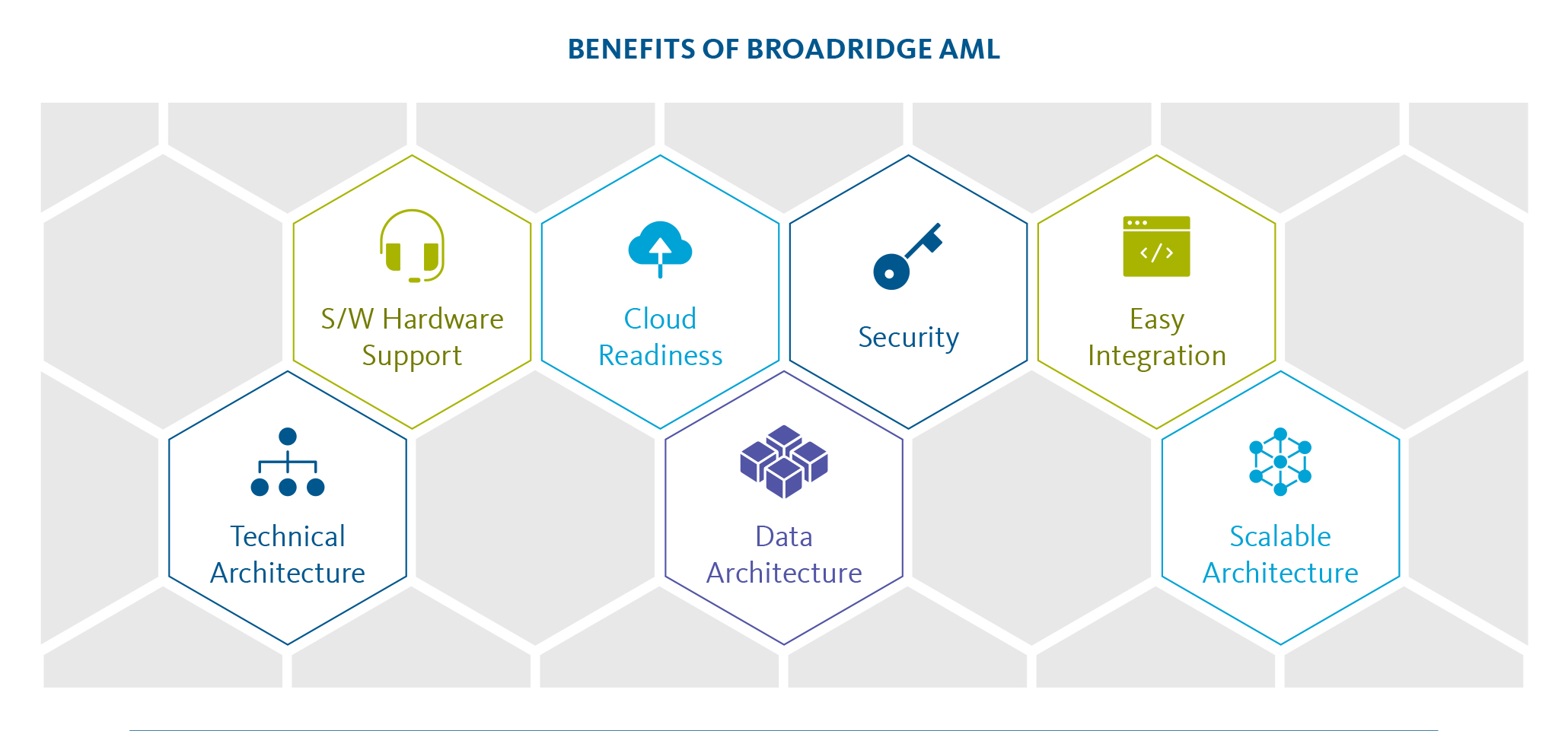 Comprehensive, Modularized AML Compliance Solution
Broadridge's AMLS operating system combats financial crime through Artificial and Collective Intelligence to create a cognitive layer of enhancement across any existing system, platform or workflow. The application is a data agnostic multi-system platform that can be scaled for firms of any size to automate and manage complicated transactional monitoring.

Transaction Monitoring
Artificial Intelligence-driven case detection that analyses complex interactions to identify emergening threats and suspicious cases. It leverages advanced machine learning techniques like AutoML, federated learning and network science to accurately detect complex money laundering activities. The solution also triages legacy system alerts into high, medium and low-risk buckets with clear, audit-able explanations, ensuring higher risk coverage and faster alerts disposition. Integrates with existing Transaction Monitoring systems.
Smart Screening
Smart Screening accurately scores and distinguishes a true match from a false match across names and transactions in real-time and in batch mode leveraging machine learning and Natural Language Processing (NLP) techniques. Screening solution provides secondary screening against sanctions lists, politically exposed persons (PEPs), adverse media and local/internal blocklist databases. The transaction screening triages and scores funds, goods or assets, between parties or accounts within a bank.
Customer Risk Scoring
Customer Risk Scoring is an effective and scalable customer risk rating solution that dynamically identifies relevant risk indicators across a customer's activity map and scores tomers into three risk tiers: high, moderate, and low. It comes with a powerful analytics layer that includes actionable insights and easy explanations for
business users to make faster and more informed decisions.
AUTOMATED MODEL MANAGEMENT FRAMEWORK
The framework automatically generates risk indicators for customer, counterparts, network and transaction based on domain and automated processes; it also creates models and evolves them through a Champion-Challenger process. It detects and self learns in the event of changes in thresholds, introduction of new rules, and such other data shifts, providing consistent model performance, scale and cost efficiency over time.
NETWORK SCIENCE FRAMEWORK:
This advanced network science framework identifies suspicious patterns/subgraphs from a single large connected graph with millions of nodes and billions of edges. It helps financial institutions to increase the coverage and accuracy of filing SARs on time. Outcome: reputation and financial risks are minimized with limited cost.
TYPOLOGY REPOSITORY MANAGEMENT:
We have the world's most comprehensive pattern repository that self-learns and grows from collective intelligence. It helps banks to automatically ingest specific patterns suitable for detecting complex money laundering cases, accelerating their risk coverage without significant investment in time and resources.
EXPLAINABLE AI FRAMEWORK:
Our patent-pending Explainable AI (XAI) framework provides clear explanations pertaining to
(i) overall model decisionmaking
(ii) the rationale behind each alert prediction
(iii) contextual explanation for each alert prediction to automate complex human decision-making. The justifications also come handy in internal audit and periodic reviews with regulators.
EASY INTEGRATION:
Our system connects seamlessly with current upstream and downstream systems via APIs and helps build scalable models faster with distributed data-parallel architecture.
MULTI DEPLOYMENT MODES:
Our solution is configurable to clients' needs and can be deployed as modules or as a complete compliance solution with multiple deployment options – on-premise, hosted, or hybrid.
ABCDs of Innovation
Broadridge simplifies the complex with The ABCDs of Innovation®. It's how we help our clients understand and apply next-gen technologies — including AI, blockchain, the Cloud and digital — to transform their businesses and get ready for what's next. Find out more.
CONTACT US
For additional information, please get in touch with your Broadridge Account Manager.