While detailing the marketing commitments, digital strategies and data analyses that successful advisors are using to win the battle for new business, one finding stood out from the rest. When asked to identify the top client needs being addressed in their practices, "Building the financial literacy of my clients" placed at the top of the list.
Ahead of such major asset management topics as "Inter-generational wealth transfer" and "Succession planning" the academic-sounding category of "Financial literacy" loomed considerably larger in importance for advisors.
This positive focus on educating investors underscores the growing awareness that empowering customers to make better decisions is critical to the success of wealth managers and investors alike. Simply put, clients who fully understand the terms needed to articulate their financial requirements make better decisions.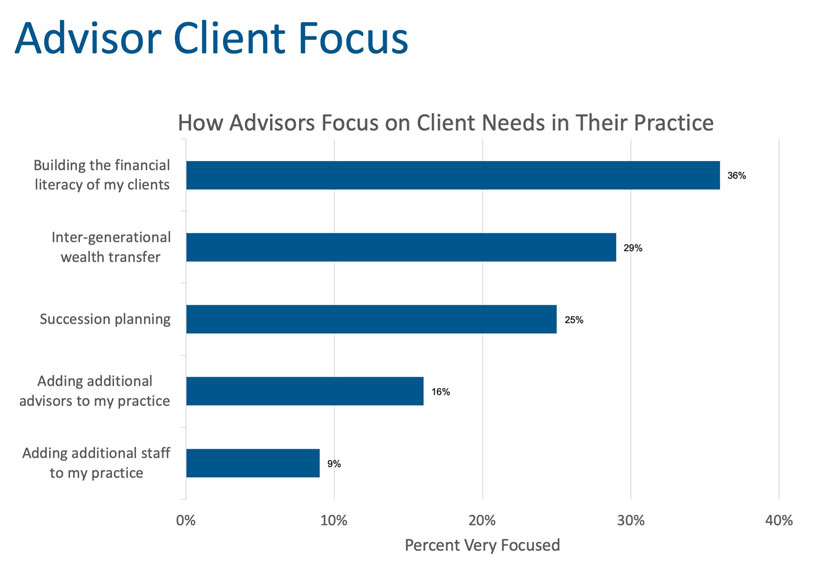 Good-bye to boiler rooms
The focus on creating well-informed investors shows us how far our industry has evolved from yesterday's boiler rooms and product-pushing cold callers. This critical topic is even finding its way into high schools, with some states now requiring students to pass a course in financial literacy to graduate.
Why financial literacy now?
Helping Investors to understand their financial situation has been part of the consultative wealth management role for decades. What makes financial literacy different today is the conjunction of cognitive learning and advisor messaging. Client interactions with websites, texts and emails now trigger highly specialized communications that "remember" each client's interests.
Advisor-to-investor communications that are programmed digitally can quickly lead to better investor awareness and more productive meetings.
On the way to personalizing their client's journey with more cost-efficient, customized communications, advisors and wealth managers also go a long way toward cultivating their personas as thought leaders committed to their client's experience. Educational content not only empowers investor decision-making, but also documents how committed your firm is to meeting the requirements of Regulation Best interest (Reg BI) and other guidelines.
To provide your advisors with materials to boost your clients' financial literacy, consider:
Taking a close look at your content. Separate out those client materials that are still current from those materials that need to be refreshed or eliminated.
Identifying "what's missing". Do you have a broad enough range of ideas to share with your clients? Many respond best to programmed approaches that are curricular in nature. Interactive to-do lists and periodic reminders are especially valuable.
Evolving your content library. Fill gaps by promoting your areas of expertise as topics of interest. Perhaps your clients need more on estate or retirement planning, tax-time preparations or asset allocation. Organizing educational subjects into learning modules can accelerate their pace of learning.
Merchandising educational content to your advisors. Similar to the "build it and they will come" theme in Field of Dreams, show your advisors how to work with your educational material and they will use it. Whether sharing presentations or investor insights, your advisors can spark interest and requests for more information.
For help evaluating your financial literacy content, try our seven-point checklist in "Is Your Content Working as Hard as You Are?"