Increase your speed to market and improve cost efficiencies
This multi-company solution operates on a single platform to provide large financial institutions and third-party administrators integrated asset management, robust order processing and flexible product capabilities.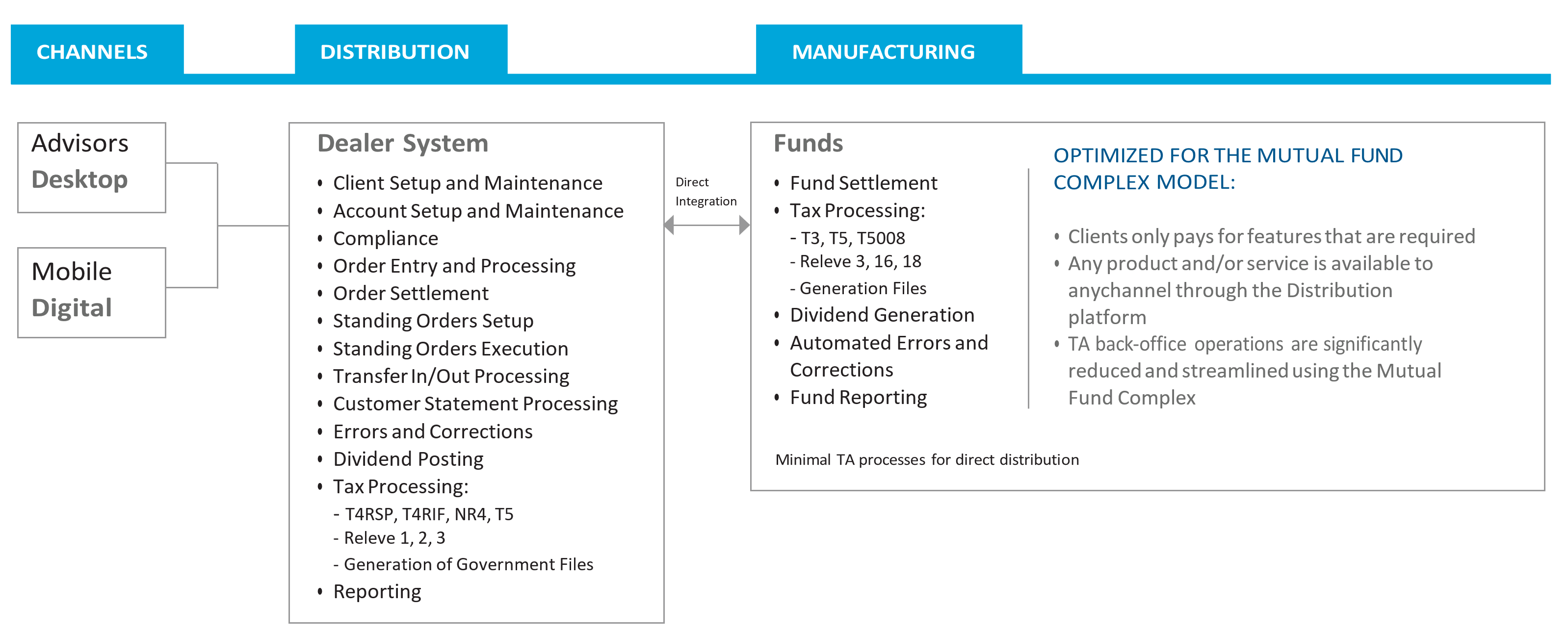 The Broadridge Funds Transfer Agency Solution is optimized for Broadridge enterprise distribution systems and designed to address the specific needs of financial institutions who have integrated manufacturing and distribution services
Surpass competitors with support for front-end, deferred, no load and fund families
Accelerate product launches with built-in compliance tracking for all account types
Easily outsource regulatory and tax technology compliance to focus on business growth
Manage multiple fund companies on a single platform with complete back-office support
Multi-company support boosts efficiency for large financial institutions and third-party administrators
Execute Omni-Channel Support Across the Entire Firm
The Broadridge Funds Transfer Agency Solution eliminates the need for multiple satellite programs or systems. Create cost efficiencies by reducing the need to reconcile inconsistent processes. Streamline distribution across multiple lines of business and channels including direct sales, fundserv direct, partner distributors or white label fund dealers. Automatically filter channels, workflows and business rules to accelerate business delivery of product and processing modifications. A single, efficient system integrates investor recordkeeping, account maintenance, tax reporting and statements.
Optimize Cost-Efficiency Using Scalable Technology
With seamless integration to Broadridge Dealer distribution systems and the Broadridge Wealth Platform, a single platform delivers transformational cost savings and enhanced efficiency. With the Broadridge Funds Transfer Agency Solution, most traditional TA business and exception processing functions are automated and initiated from within the dealer system, significantly reducing TA operations complexity, resource requirements and risk. Comprehensive STP with automated error correction processing further improves cost and time savings.
Broadridge Reduces the Compliance Burden
Full regulatory and tax support with parameter-driven product compliance features. Regulatory changes are made once and filtered through to business workflows without additional coding or implementation. Online compliance for KYC and KYP processes with support for all account types. By relying on Broadridge to assure regulatory and tax technology compliance, you allow your staff to focus on what matters most, growing your business.
Accelerate Operational Efficiency With a Single Platform
Broadridge delivers a single, consolidated Wealth Platform designed to modernize your ecosystem and ensure future success. The Broadridge Wealth Platform empowers with a flexible, scalable ecosystem. Firms can utilize the full platform or individual components on the same normalized data and system framework. You can easily integrate Broadridge capabilities, proprietary tools, or any third-party applications.