It is only natural that companies turn to digital in their effort to cut down print and postage costs, but approximately 60 percent of consumers still prefer print. How do you balance the fine line between cutting costs without sacrificing the customer experience?
The answer lies in providing your customers with communication choices – from print to digital. At our recent webinar, Postal Changes and Print Trends to Watch, I shared the latest print trends that companies can leverage to optimize their budgets, as well as ways to use print and digital together as customers gravitate toward digital experiences. These trends can help you manage rising print and mail costs while supporting your CX and digital strategies.
Now is the time to revisit your print communications, and below are five trends that can take these communications to the next level.
1. Think Outside of the (In)Box
The print industry is getting increasingly creative. With packaging techniques like 3D folds, organizations are experiencing impressive customer engagement results from their direct mail efforts. For inspiration, check out the "Fold of the Week," which highlights how print can provide a physical, interactive experience for customers. These innovative print techniques are finding their way to mailboxes and capturing customer attention – and that may be in part due to overflowing inboxes.
2. Start with a Blank Canvas
Transactional mailers are continuing to move to white paper printing versus pre-printed forms, enabling flexibility, cost savings, and inventory reductions. By starting with the end in mind, on-demand printing allows companies to print just what they need while also providing the ability to incorporate timely customer messaging. This trend is supported by the decrease in costs for color and significant improvements in inkjet printing technology. We're likely to see this trend grow.
3. What Your Customers Want from Your Communications
Keypoint Intelligence-InfoTrends asked consumers, "How can your providers improve the transactional communication that they send you by mail?" Following are the top three consumer responses (for the U.S. and Canada):
Make them easier to understand
Make them relevant
Personalize the content
What's interesting is when you look at the survey results for the 55-plus age group (also those most likely to receive printed communications), they agreed with the first two – make them easier to understand and relevant – but they favored "combine multiple communications into one mailing" as their third response. Essentially, this group favors convenience over personalization.
4. Double Dipping across the Demographics
Double dippers – consumers that receive both paper and digital communications – are often the most likely go paperless, but, in the meantime, they are often the most costly because they are receiving both print and digital communications. So, why are these customers still receiving the paper version if they already have the digital version?
Keypoint Intelligence asked U.S. and Canadian consumers this question and the graph below summarizes their responses.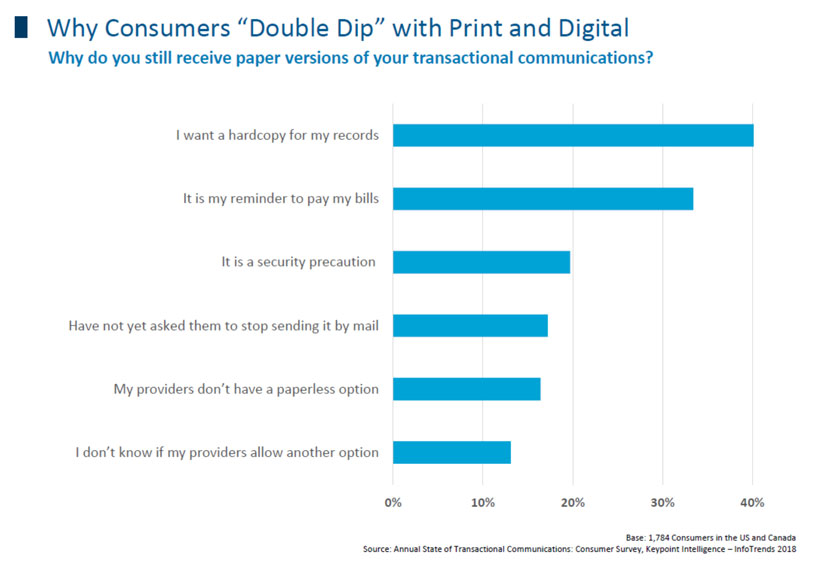 Interestingly, for millennials, they shared the same top two – they want a hardcopy for their records and they use the printed bill as a reminder to pay; however, security fell from third place to fifth. Their third top reason was "I have not asked my provider to stop sending it by mail" and their fourth reason was, "My providers don't have a paperless option." Essentially, they are open to going digital; they just haven't gotten around to it or their provider hasn't gotten around to it. This is low-hanging fruit… pick it!
5. Redesign Communications to Capture Attention
Communication redesigns are allowing companies to reimagine the entire customer experience and evaluate their communication goals. For example, what actions do you want your customer to take after receiving the communication? Is there a relevant offer that customers can take advantage of, thereby growing loyalty and revenue? Do you want to leverage print to promote digital enrollment and convenience?
A redesign offers the opportunity to start from scratch and execute on your priorities. You can also add copy to the back of pages – a great opportunity for targeted messaging. Additionally, companies can take advantage of the U.S. Postal Service (USPS) incentive to household communications; that is, for the price of one ounce, you can include up to three and a half ounces of content into one envelope and pay the same one-ounce postage rate. These benefits are driving companies to revisit their print and mail strategies while introducing ways to incorporate physical and digital together.
In my next blog, I will share how to deliver a better customer experience by combining the power of print and digital.