Having suffered a significant plunge in performance at the beginning of the COVID-19 crisis, hedge funds have since staged a remarkable recovery, with the average manager producing returns of 11.6% in 2020.1 Leading the charge were equity hedge fund strategies, which generated returns of 17.5% in 2020 after successfully capitalizing on the equity market rally. Although hedge funds produced positive performance last year, managers are conscious that 2021 will not be without risks. Concerns that equity markets are mispriced and due an imminent correction have become increasingly ubiquitous in industry circles. In addition, the vast Central Bank cash injections and their pursuit of ultra-low interest rates mean that fixed income yields are likely to stay grounded for the foreseeable future. As a result, a growing number of hedge funds think it prudent to diversify into new strategies – like private debt – which are well-positioned to navigate COVID-19.
According to Preqin, private debt funds raised $34 billion in Q2 of 2020, increasing from $22 billion in Q1. It added that special situations and distressed debt accounted for the overwhelming bulk of the capital raised, accumulating $12 billion and $9.7 billion, respectively. Preqin added there are now a record 486 funds seeking to raise $239 billion in aggregate capital from investors.2 These managers are likely to attract interest from investors, many of whom are seeking out counter-cyclical opportunities. While hedge funds had a decent year in their capital raising and performance, many firms are launching private debt vehicles to widen their sources of returns and broaden their underlying investor demographics.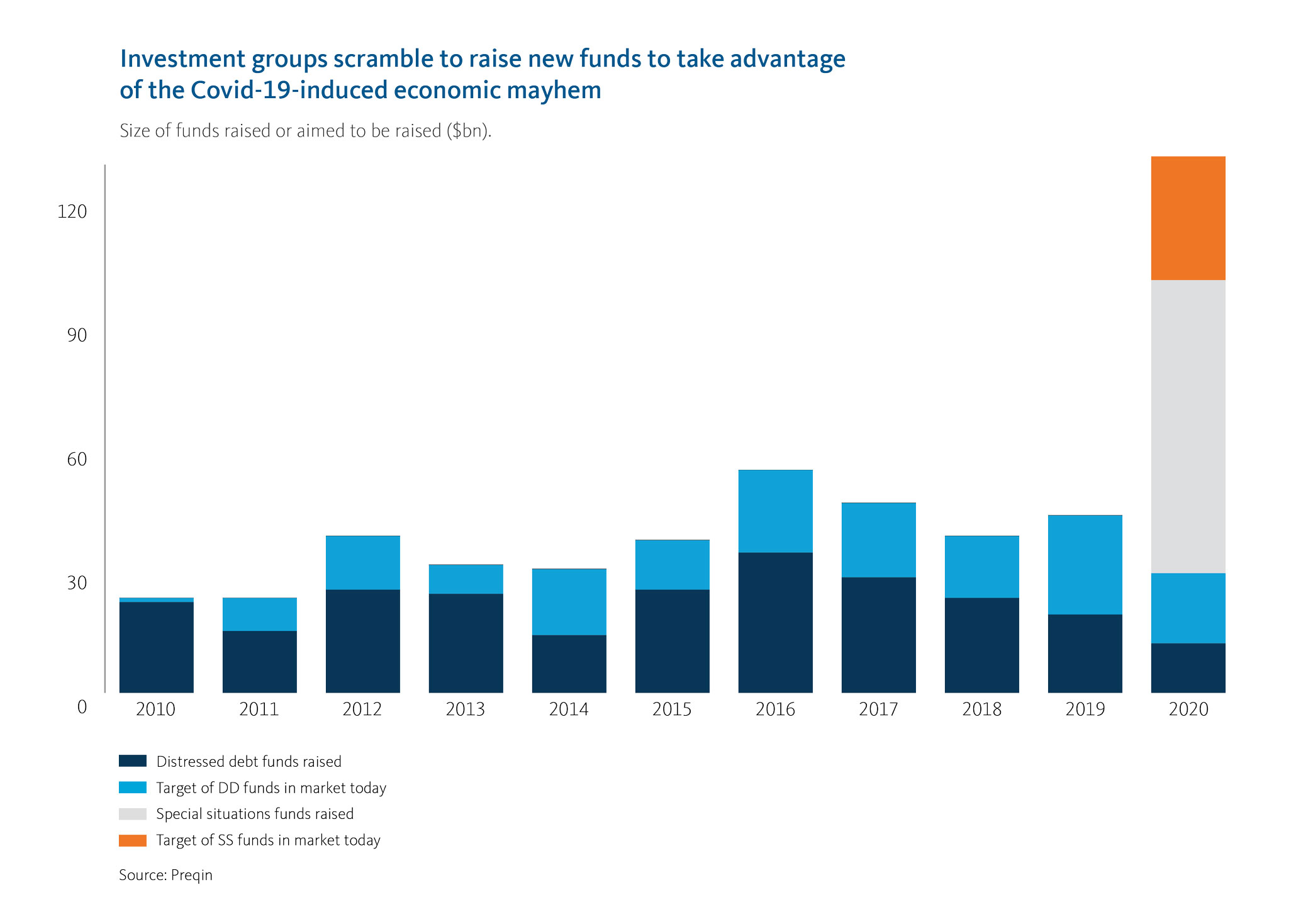 Bank debt: An attractive proposition for hedge funds
Ever since the global financial crisis and subsequent eurozone sovereign debt crisis, banks globally have been trying to offload problem loans from their balance sheets. Overall, banks – up until March 2020 – had successfully removed NPLs (non-performing loans) from their books. In 2018, European banks sold approximately €205 billion of NPLs3, much of which was acquired by distressed debt and special situations funds operated by hedge fund and private capital managers. Manager appetite for NPLs is driven primarily by performance, with some assets potentially yielding double-digit returns at a time when alpha is hard to come by.4 For instance, research by Ashurst in 2018 revealed that most investors reckoned Greek NPLs would net them internal rates of return (IRR) of between 10%-15%.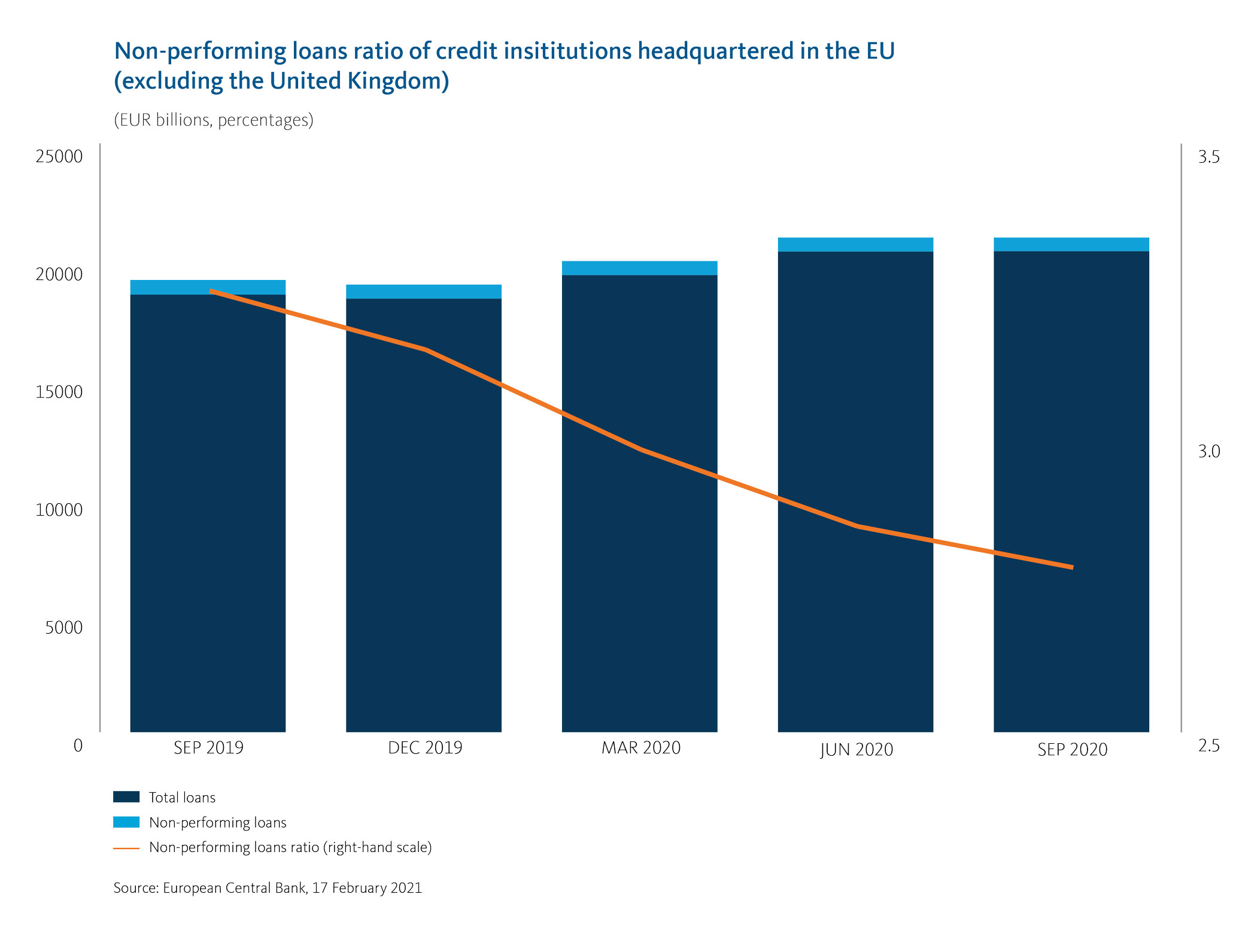 COVID-19 is likely to result in a massive spike in NPLs being held by banks globally, especially once government support for businesses comes to an end later this year. The European Central Bank (ECB) predicts "in a severe but plausible scenario" that NPLs at euro-area banks could swell to €1.4 trillion, a sum total well above the $1 trillion seen during the global financial crisis and sovereign debt crisis.5 In contrast to the previous crisis, the share of bad corporate loans post-COVID-19 is likely to be much higher. Nonetheless, regulators are keen to promote secondary distressed loan markets in what should help enable banks to sell down their NPLs. The European Commission recently confirmed it would further develop the secondary market for distressed assets by enhancing debtor protection and establishing a central electronic data hub at an EU-level to improve market transparency. These regulatory moves should encourage more asset managers, including hedge funds, to purchase NPLs.
However, not everyone is anticipating a sudden flurry of new NPL sales activity. Firstly, COVID-19 resulted in delays to pre-existing NPL transactions. As a result, many banks will likely prioritize the unwinding of their historic bad loans first before offloading any NPLs associated with COVID-19.6 The disposal of COVID-19 induced NPLs could also take longer than expected because of government intervention. Liquidity injections by Central Banks and governments into distressed companies could potentially mean that corporate loans take more time to sour than they usually would.7 Although there will be a number of exciting NPL opportunities, they may not materialize for quite some time.
New assets require new expertise
With more hedge funds adopting private capital-type structures and investment styles, managers must ensure their internal operations can cope with the various changes. Unlike a conventional equity long/short trading strategy, private debt instruments such as NPLs command specific expertise, especially in the field of credit analysis. It also requires hedge funds to invest in new technology systems capable of handling complex and highly bespoke asset classes such as NPLs. Moreover, better automation and a transition away from manual-based processing will be integral if hedge funds are to oversee and suitably manage the risk of NPLs in their portfolios. As an alternative, some hedge funds may opt to outsource these middle and back-office activities to trusted third parties with a strong track record supporting multiple asset classes and financial instrument types with automated custom workflows.