We considered how technology is changing the customer communication space – in 2018 and beyond – at our recent webinar, The Customer Journey is Transforming. Are Your Communications Ready?, with guest speaker Matt Swain from Keypoint Intelligence – InfoTrends.
Nearly half of webinar attendees indicated that artificial intelligence (AI) and chatbots are going to have the greatest impact on meeting their goals, followed by personalized video at 37 percent and the emergence of the consumer communications ecosystem (e.g., Google and Amazon) at 26 percent.

AI/Chatbots
When U.S. consumers were asked, "How likely would you be to use a voice command device (e.g., Amazon Echo, Google Home) to interact with your providers in the following ways?"
40 percent said they would use the device to review account balances
31 percent said they would use it to pay bills
41 percent said they would use it to receive payment reminders and messages from their providers
"These survey results show demand is there. AI and chatbots can change the way you look at your customer communications and interactions," shared Matt.
In the future, these technologies will likely move from reactive solutions to proactive solutions. Instead of having to ask multiple questions, you may ask a general question like, "What's going on today?" and the device will respond, "This is what's on your calendar. By the way, you have two bills that are due today: your utility bill and your telecom bill. Would you like to pay both of these now?" These devices will act like a virtual butler that is able to assist with specific needs.
Personalized videos
Personalized videos are a convenient and easy way for businesses to engage with their customers. "Based on our extensive research, we've found that consumers choose to watch personalized videos primarily out of curiosity and, secondarily, to better understand the products and services they purchase," shared Matt. The personalization alone makes the consumer feel important, and they are an effective communication channel when explaining complicated information.
Communication consolidators
In recent years, many organizations have come to the realization that it is complicated to encourage consumers to visit their website and download their app. The idea of being able to communicate with your customer where they are, wherever that may be (as long as it's secure and compliant) gives organizations the ability to syndicate content directly to the locations that matter to customers.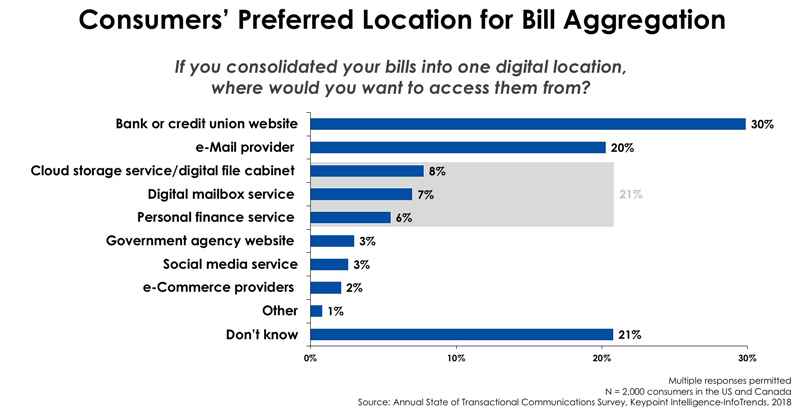 "When you look at the communication consolidator responses of cloud storage, digital mailbox, personal finance service in aggregate at 21 percent, it is comparable to emails at 20 percent. This speaks to ensuring customers have the experience they want, wherever they go," stated Matt.

Our research uncovered some fascinating digital consumer behavior. Many visit a provider's website and download the information only to upload it into a consolidator site. Others get the paper copy, scan it or take a picture of it, and then upload it. Huh? We're using data in a digital format to create a printed document – only for consumers to turn around and transform it back into a digital format? Bottom line: Providers can save costs and consumers can save time by having their communications delivered directly to their preferred digital channel.
Whether you are considering AI, chatbots, consolidator sites or ecosystems, these technologies are micro services that ultimately work together to create a better customer experience – now and in the future.