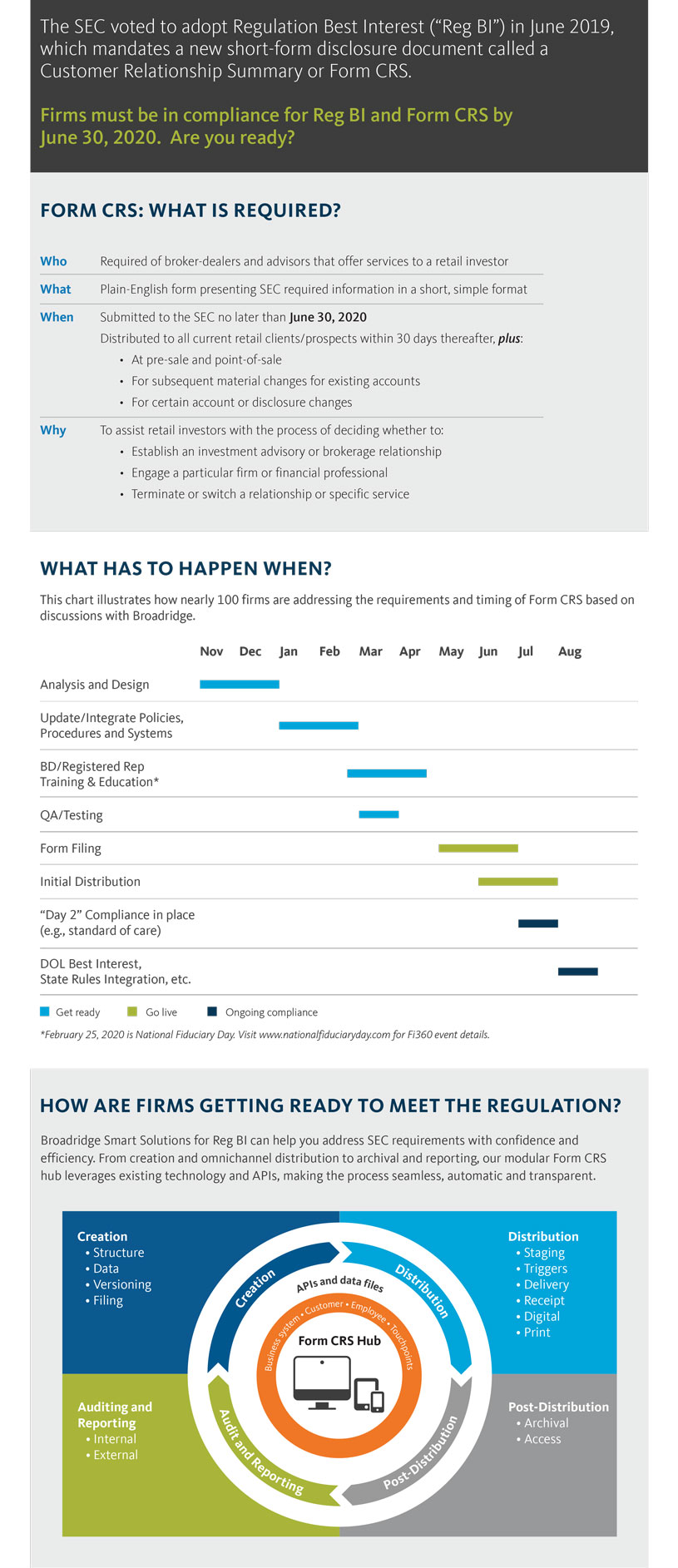 HOW ARE BROKER-DEALERS AND REGISTERED REPS GETTING READY?
Training and education are critical elements of preparing for Reg BI. Fi360, a Broadridge company, has been the leader in fiduciary education for more than 20 years, offering certification and designation programs that have prepared nearly 50,000 financial professionals to put their clients' best interests first.
As part of the Fiduciary Essentials® certificate program, Fi360's Reg BI training is a customizable, two-part solution for home office personnel and their advisors to understand, apply and reliably comply with Reg BI. Training programs focus on the practical application of the regulatory requirements with a tailor-fit approach to support your business model.
Accredited Investment Fiduciary® (AIF®) Designation training empowers investment professionals with the fiduciary knowledge and tools they need to serve their clients' best interests. As one of just 11 accredited designations acknowledged by FINRA, the AIF® Designation is more than an acronym; it's a signal that the holder will always put the needs of their clients before their own. Fi360 designees are part of an elite professional community of fiduciary specialists with credibility and distinction in the marketplace. AIF® Designation training is available in person or online. The 2020 in-person training season kicks off on National Fiduciary Day, Feb. 25, in Philadelphia, Chicago and San Jose. Choose a location and format that works best for you. Contact us to explore training options.
COUNT ON BROADRIDGE FOR YOUR WAY FORWARD
From Form CRS to new "best interest" compliance obligations, you'll gain the expertise and executional know-how to satisfy Reg BI demands. To learn more, contact Tim Slavin, Senior VP of Retirement at timothy.slavin@broadridge.com or Jean Reilly, Vice President, Practice Lead for Broadridge Consulting Services at jean.reilly@broadridge.com.