This presented Issuers and Broadridge with a unique opportunity to improve shareholder experience and accessibility. What did companies experience? Will there be a return to hybrid or in-person only meetings? What can companies learn from this as we embrace the new normal?
As the industry leader, Broadridge is uniquely positioned to share facts and figures about this now essential way for companies to engage with their shareholders.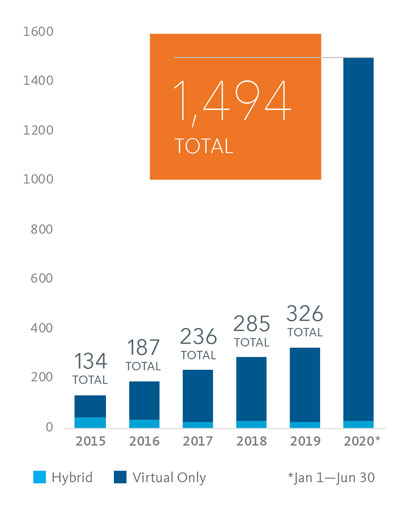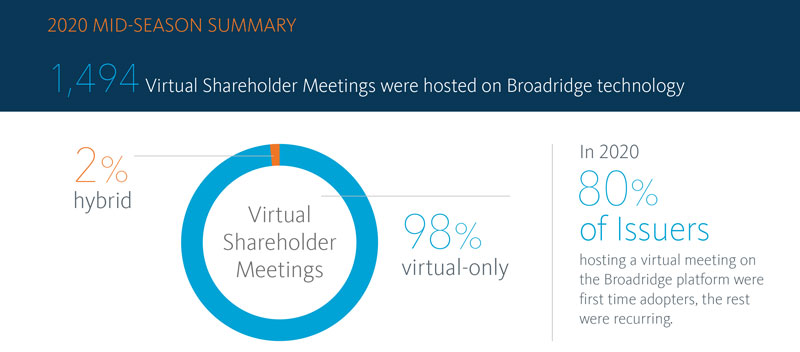 Seamless onboarding
Over the course of three months we held twice-a-day training webinars and provided every client with a dedicated VSM specialist to make onboarding seamless for Issuers.
Simplified authentication
The Broadridge platform authenticates ALL shareholders in two clicks enabling them to attend, vote and ask questions, eliminating additional tasks such as pre-registration or multi-step attendance processing.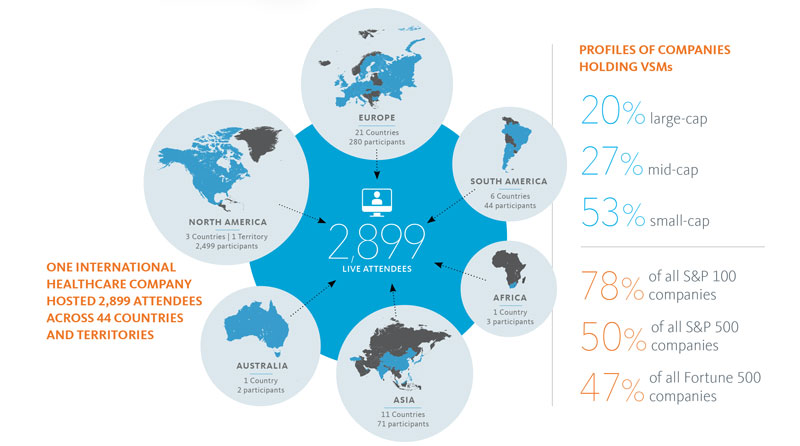 SHAREHOLDER ENGAGEMENT
Meeting attendance
Approximately 75,000 people attended 1,494 VSMs hosted by Broadridge during the first half of 2020 with an average of 50 shareholders and guests.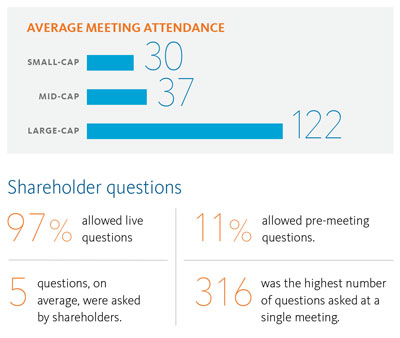 Shareholder proposals
193 of the 1,494 virtual meetings hosted had shareholder proposals. These meetings saw greater participation, including higher average attendance, more questions and longer meetings.
Shareholder experience
The virtual meeting platform allowed for access from any device with a browser and internet access (phone, tablet, desktop, etc.).
Shareholders could submit questions live during the meeting via text box, a moderated Q&A phone line, or pre-meeting online.

Key considerations when choosing a service provider
When your company decides to offer a virtual shareholder meeting, choosing the right service provider will help you maximize experience for both your management and your shareholders.
Make sure access is easy for ALL shareholders
Shareholders should be able to access the meeting in two steps:
They enter the meeting URL
They enter the control number found in the proxy materials
Authenticate shareholders properly
Your VSM partner should have a reliable mechanism for authenticating all shareholders so that entry, votes and questions asked can be properly validated.
Execute best practices
Effectively communicate with shareholders before the meeting, provide ways for them to submit questions—pre-meeting, text box and phone—and vote, and establish rules to ensure everyone can fully participate.
Ride on a proven track record
A successful meeting requires planning and participation. Ensure your provider has the scale to support your meeting as well as the resources and expertise to guide your team through the experience from beginning to end.