Michelle Jackson, managing director for digital solution sales at Broadridge, joined me to share some key findings from the survey in a recent webinar. For a deeper dive, download the entire report, CX and Communications Trends for 2019.
Since the breadth of the survey results are so extensive, we've selected some key findings regarding content, personalization, notifications and reminders, digital communications, and personal cloud services to share here.
When it comes to content, clarity is key.
Communications can make or break the customer experience. When asked how their providers could improve communications, consumers said they want important information summarized and stated clearly – for both print and digital communications. Surveyed consumers defined "clarity" as using plain language, highlighting important information and putting the most important information at the top of the communication.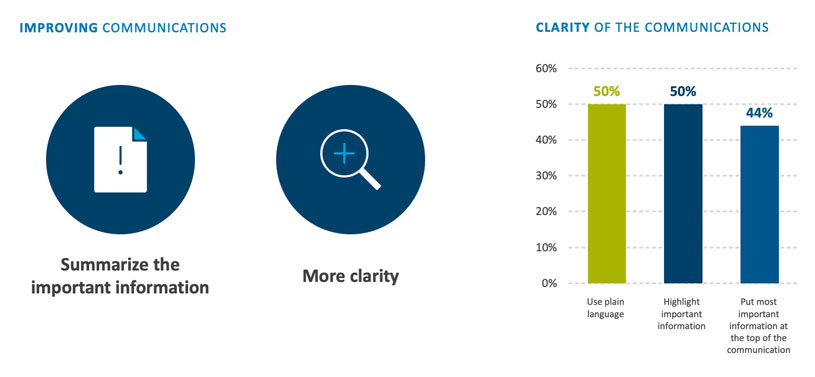 When it comes to content simplification, my communications consulting services team takes an end-to-end approach. We start with a competitive benchmark, create a content strategy, review technical specifications, perform functional prototyping, and then implement the new design. Some clients are ready for big content transformations and some want to take incremental steps. You can execute and benefit no matter what approach you take.
Keep your customers. Personalize their experiences.
According to our survey, 25 percent of consumers have stopped doing business with a company because it did a poor job of personalizing their experience. Leaders in this space take a thoughtful, measured approach to personalization – whether it's contextual content, specific text or images, and/or delivery channels. By leveraging analytics, companies can understand what is being acted upon and what is being ignored, and optimize content accordingly over time.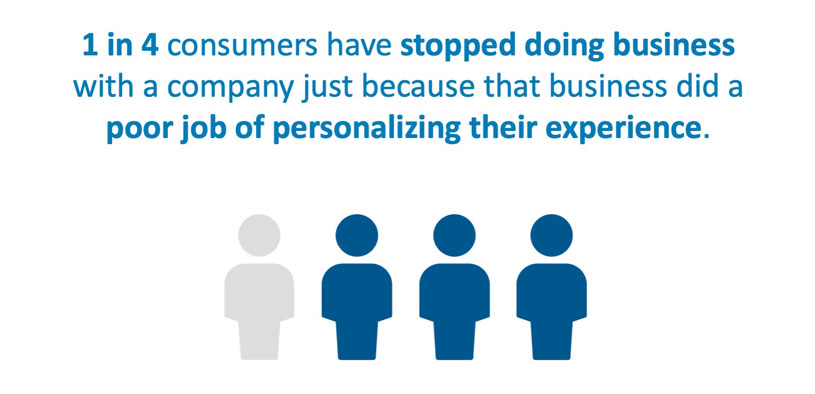 Multi-touch notifications and reminders will help your customers pay their bills on time.
When we asked consumers what prompts them to review their statements and pay their bills, the majority said the arrival of the statement and bill (56 percent) followed by email and text reminders (45 percent). When asked about their preferred way to receive "payment due" reminders, 51 percent of consumers said email, 42 percent text messages and 29 percent physical mail.
Some consumers prefer – and appreciate – multi-touch reminders, especially considering 23 percent of surveyed consumers missed a payment due date in the last 12 months. It's almost like a snooze button approach: "Okay, I received that communication, hit snooze. I received this follow up, now I remember. I hit snooze once more and now I get that last-minute bill-is-due reminder and I pay it."
Privacy and information security improve digital communications.
We asked consumers how their providers could improve digital communications. Again, they want a summary of important information and clearer communications. But, they also want privacy and control over their personal data. This is a topic that comes up often, especially in light of heightened data privacy regulations, like the General Data Protection Regulation (GDPR) and California Data Privacy Act.
Companies need to strike a balance between providing relevant communications and being respectful of consumer data.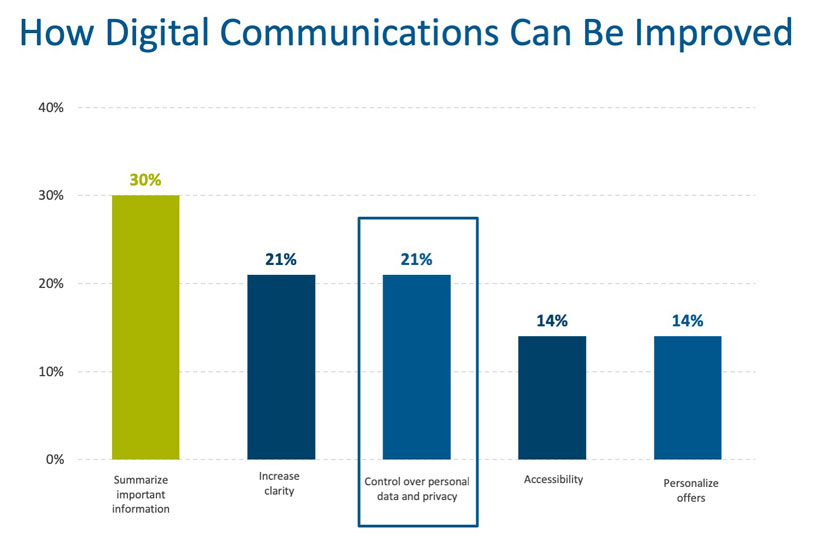 Add convenience and context with personal cloud services.
Our survey uncovered that 50 percent of millennials want to view all of their bills and statements in one location. Whether it's Google Drive, Dropbox, Facebook or their bank, it's about meeting consumers where they spend their time online. In addition to the convenience of one destination and one password to remember, surveyed consumers indicated that a consolidated view provides a better understanding of their monthly expenses and investments. By aggregating content, brands can help their customers take action – from renewing services to making investments – while providing a better experience.
To gain more insight into consumer attitudes toward CX and communications, download the report or view our on-demand webinar.