Oversight and Strategy of Diversity
Our goal is to ensure our associates at every level of the organization represent the diversity of the clients we serve and the communities in which we work. We pursue both top-down and bottom-up approaches to advancing DEI initiatives and values as part of our culture.
We have a Chief Diversity Officer, whose role is to design and implement a holistic diversity, equity and inclusion strategy, and partner with our business units to develop the resources and competencies needed to drive this strategy. Our Chief Diversity Officer is a member of our ELT as well as the Executive Diversity Council (EDC). In those roles, they provide regular updates to our Chief Executive Officer and ELT. In addition, the Chief Diversity Officer serves as an advisor on global initiatives, such as our Associate Networks and our recruitment and compliance efforts. The Chief Diversity Officer is also responsible for building cross-company resources to enable sharing of insights and best practices.
Chaired by our President, our EDC represents all regions where we do business and our Associate Networks. Our EDC meets quarterly and provides insight and recommendations on critical DEI-related opportunities and challenges. The EDC is also responsible for measuring our progress against our goals.
The Compensation Committee of our Board has oversight over human capital management matters, including initiatives and programs that concern our culture, talent, recruitment, retention and associate engagement. In addition, our Chief Human Resources Officer and/or Chief Diversity Officer report to our Board periodically on our initiatives and progress on DEI practices. The Board annually reviews the Company's executive talent, including the Company's leadership bench and succession planning.
The following chart illustrates the key elements of developing and promoting the systematic implementation, monitoring and managing of our DEI strategy: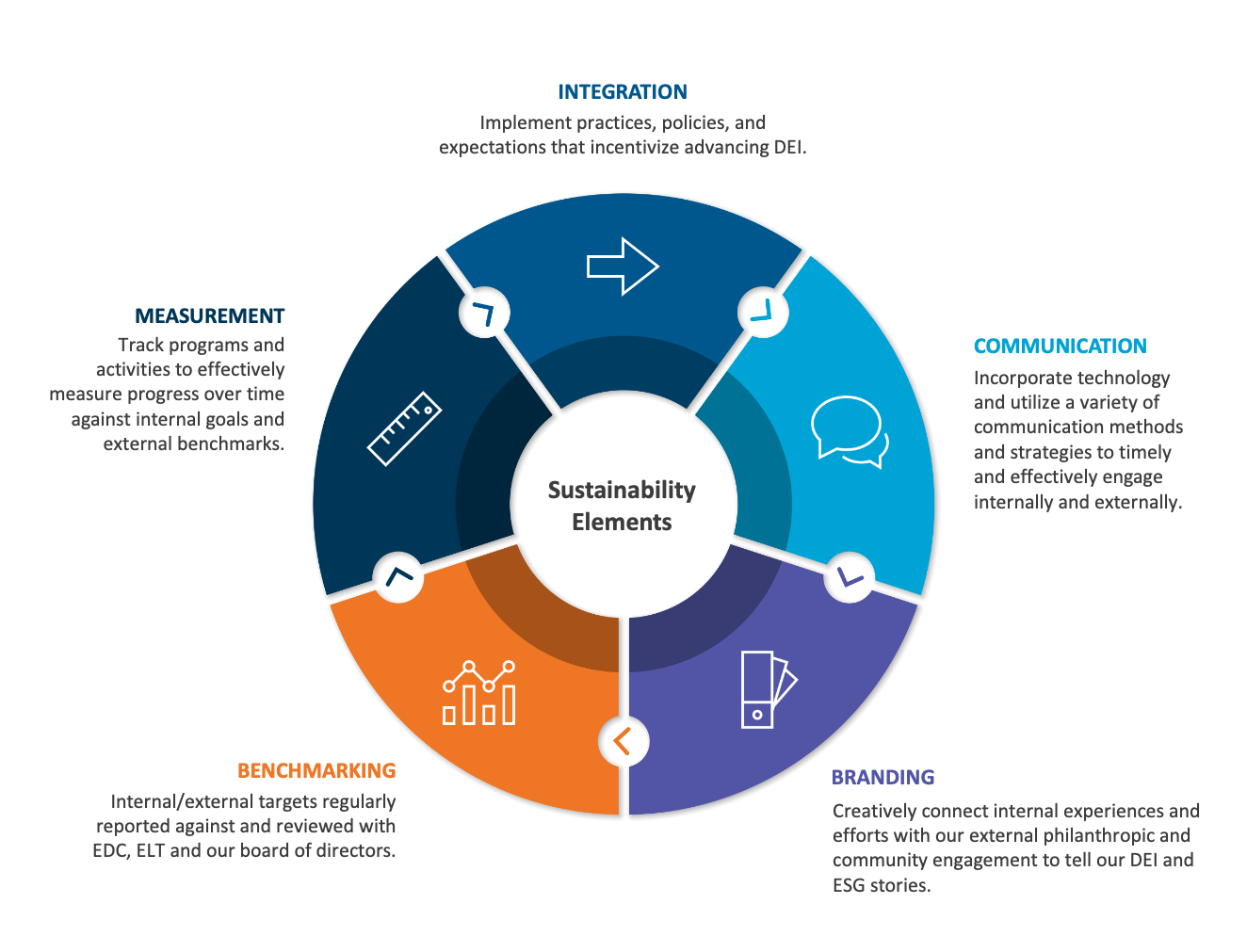 Sustainability Elements
INTEGRATION - Implement practices, policies, and expectations that incentivize advancing DEI.
COMMUNICATION - Incorporate technology and utilize a variety of communication methods and strategies to timely and effectively engage internally and externally.
BRANDING - Creatively connect internal experiences and efforts with our external philanthropic and community engagement to tell our DEI and ESG stories.
BENCHMARKING - Internal/external targets regularly reported against and reviewed with EDC, ELT and our board of directors.
MEASUREMENT - Track programs and activities to effectively measure progress over time against internal goals and external benchmarks.