WHO IS AFFECTED BY T+2
• Broker-Dealers
• Issuers
• Asset Managers
• Global Custodians
• Vendors
• Service Bureaus
• Exchanges
• Clearing Firms
• Depositories
• Transfer Agents
Is your end-to-end solution T+2 ready?
The settlement period for in-scope securities traded on the secondary market in the US and Canadian markets is currently trade date +3 business days. Come September 5, 2017 this period will be shortened to trade date + 2 business days. This change is being made in order to:
Reduce counterparty risk between trade execution and settlement
Reduce liquidity requirements for NSCC
Harmonize settlement in global markets
Reduce pro-cyclical margin demands
"Many vendors indicate they will be T+2 ready, but will your end-to-end STP process amongst vendor platforms be T+2 ready?"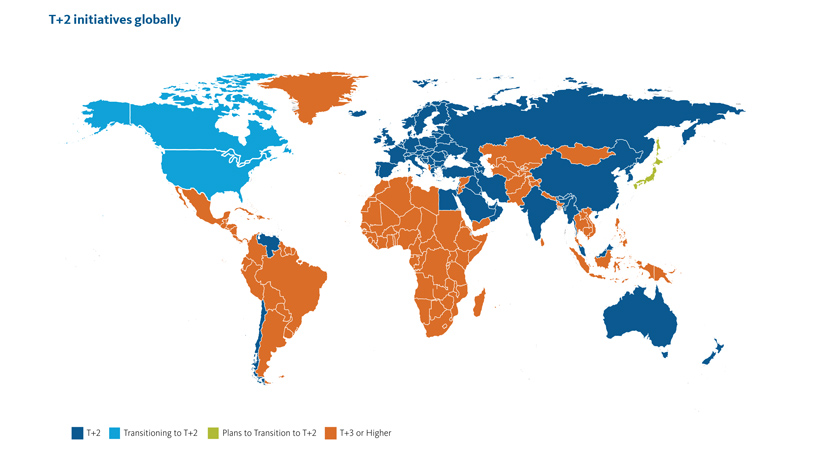 THE MOVE TO T+2
US/Canada alignment
Throughout 2016 and 2017 industry participants will migrate from T+3 to T+2 settlement cycles across the financial services in Canada and the U.S. Many firms have already began working to make sure that they understand and are ready for the switch to accelerated settlement on September 5, 2017 to align with Europe, where the transition has already been completed.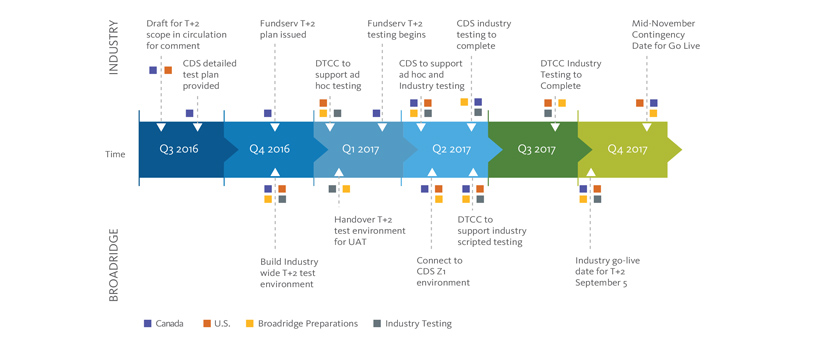 Organizational awareness and planning are keys to success
Before T+2 readiness is established industry-wide, all firms must identify and assess impacted technology and supporting processes and establish a program structure to manage the business analysis, interfaces and trade workflow for each impacted instrument/financial product. They must also prepare for industry testing, client/staff education and a stakeholder attestation/sign-off process and a paper trail to support post-T+2 implementation audits.
Benefits of an organized T+2 structure:
Front to back accountability

Clear ownership for product & process delivery

Integrated planning

Timely escalation & resolution
T+2 READINESS
Do you know your risk?
Broadridge commences its T+2 analysis with a series of sessions to understand your current front-to-back trade booking applications and related processes that are or have the potential to be within the scope of the program. A key first step is to identify all in-scope products supported and a listing of reference data sources and front-to-back applications, data flows and consuming processes.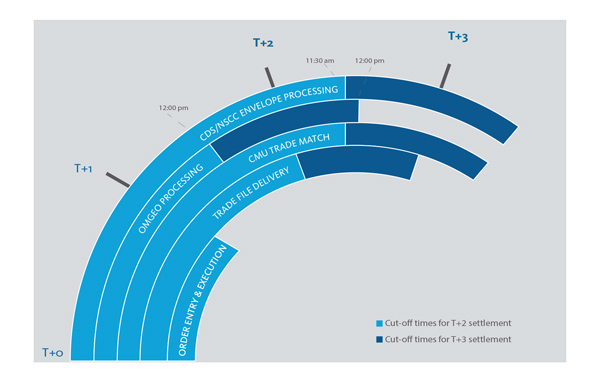 "Losing 24 hours eliminates a whole evening of batch processing that many firms rely on today for their holistic trade cycle."
Each instrument and product type work flow and systems must be reviewed to ensure end-to-end readiness. Below is a high-level list of categories in/out of scope for T+2.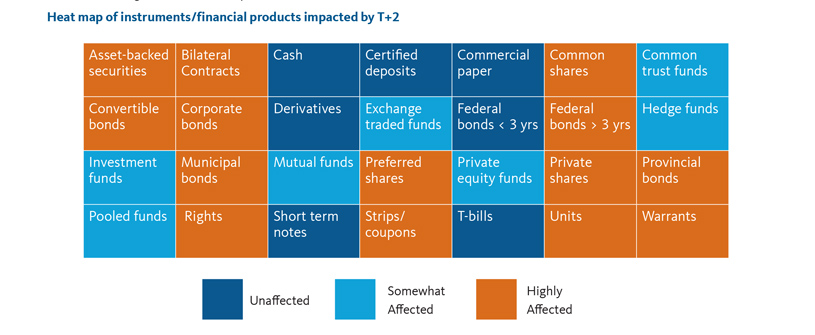 T+2 ACCELERATED CYCLES
The move to T+2 is about compression of trade cycle
To be successful with this mandatory regulatory change, a holistic assessment is critical for firms to understand impact, risk, and remediating actions. With current processing times being shortened firms must react more quickly to the status of open transactions to maximize the reduced settlement cycle time.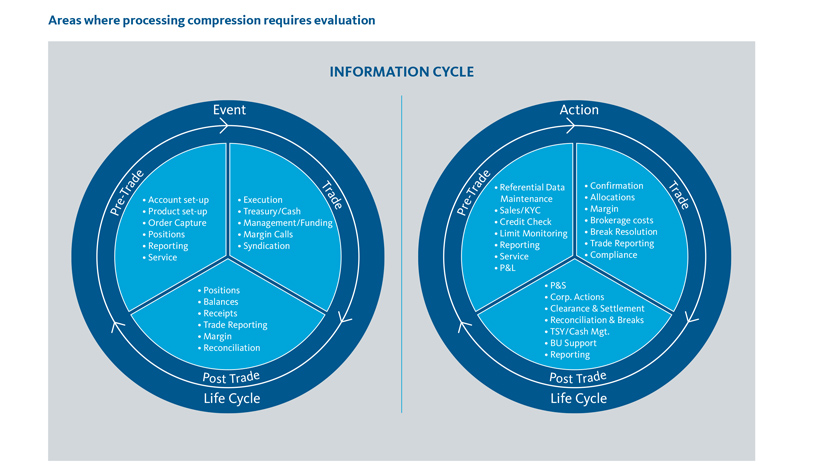 Targeting transaction life cycle events & actions for a causal analysis is a valued exercise to incorporate into your T+2 program as settlement compression may result in elevated fails and exceptions. These include pre-trade and post-trade ancillary processes that are support various instruments and financial products.
"T+2 readiness must include a review of ancillary processes and life cycle events."
T+2 READINESS ASSESSED: WHAT'S NEXT?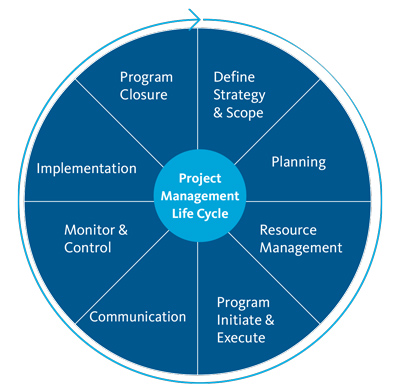 As your Readiness Assessment concludes, you will need to start to think about next steps, including testing across internal and external platforms involved with your STP processes for trade flow. With our seasoned professionals, expertise and unique industry vantage point, Broadridge will be ready to assist with planning through to staff augmentation.
Broadridge has extensive experience across all aspects of the testing life cycle. As a major software developer and system integrator, Broadridge can leverage its deep subject matter expertise to prepare, build, manage, execute and control our client's test program. In 2015 alone, Broadridge executed over 7,600 application installs across its internal suite of systems serving clients globally. To achieve this level of change, thousands of test cases were executed to validate and test changes. Underpinning our change management is a disciplined structure supported by industry experts leveraging best-of-breed tools and practices, which we also bring to our T+2 readiness practice.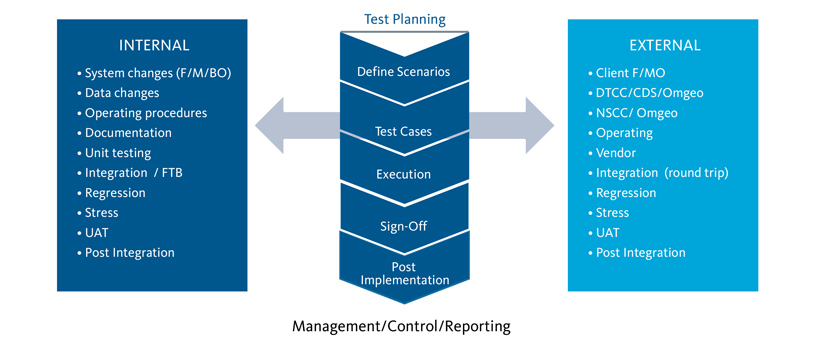 PROFESSIONAL SERVICES AREAS OF EXPERTISE
Broadridge Professional Services practice is managed by seasoned industry practitioners whose decades of experience across capital markets, wealth and asset management businesses provide our clients with the ability to leverage their knowledge, and extensive technical and operational expertise, and augment their internal staffing needs – when confronted with challenges ranging from Operational Transformation Cost & Efficiency, Application Development, Program/Project Management and Testing, Business Strategy, Risk Management and Impact Assessment.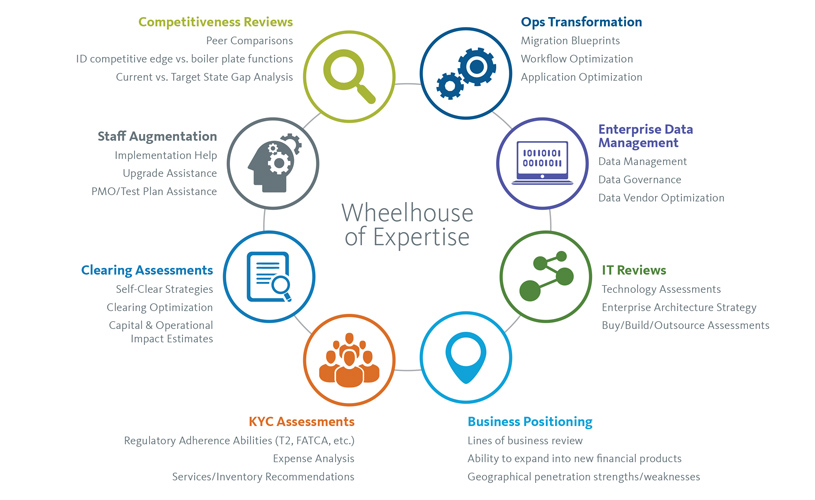 PROFESSIONAL SERVICES SNAPSHOT
We have helped over 100+ companies globally transform their businesses, optimize their processes & position them for future success.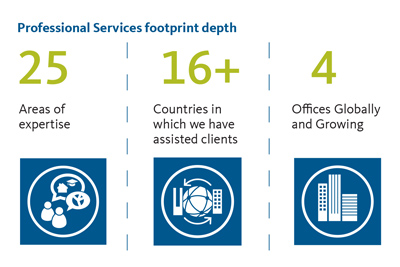 View a full list of references for this white paper.