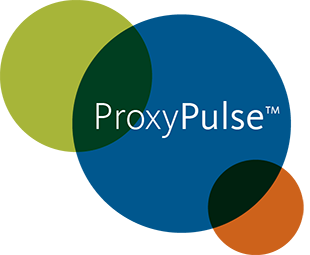 This edition of ProxyPulse™ provides insights into corporate governance and shareholder voting developments ahead of the 2019 proxy season. It also includes data on shareholder voting trends from 1,024 annual meetings held during the "mini-season" between July 1 and December 31, 2018. What's different about the mini-season? Fewer companies hold meetings during the mini-season, and those that do tend to be smaller. Twenty percent of all public company annual meetings took place from July 1 to December 31, 2018.¹
What to look for in 2019
Investors continue to focus on long-term growth, highlighting the impact of corporate culture, purpose and stewardship on a company's long-term strategy and success.
Environmental and social topics continue to be front and center in the conversation as they comprised the largest segment of shareholder proposals in the 2018 calendar year. Early indications are that this trend is continuing in 2019.
Legislators, investors and proxy advisors are weighing in on board gender diversity. California became the first US state to pass gender quota legislation for boards of companies headquartered there. Since then New Jersey has proposed similar legislation.

---
¹ ProxyPulse™ data is based on Broadridge's processing of shares held in street name.