Complete Performance Reporting and Absolute Attribution Analysis
Performance Reporting helps investment managers receive daily performance calculations - without the need to rely on an administrator, custodian or third-party provider for that information.
Broadridge's market-leading technology platform provides complete performance reporting and absolute attribution analysis for internal and external requirements across asset classes and business dimensions.
Integration Benefits:
Increased speed and efficiency in evaluating data and making decisions
Error reduction by eliminating manual data entry and time-consuming reconciliations.
Increased transparency by shadowing your administrator's reports and calculations through the elimination of data silos.
Added versatility by creating customized reports for a variety of purposes – internal management, investor reporting, due diligence, and investor presentations.
The Value of Integration
Broadridge is the only provider that offers an integration of Performance Reporting with hedge funds' existing order, portfolio and risk management systems.
Comprehensive Performance Measures
An industry leading solution for hedge funds wanting to minimize technology spend and obtain shadow performance calculation—while getting a dynamic, effective, and efficient solution that allows them to focus their time on raising and managing assets.
Leverage a Complete Set of Performance Analytics Tools
Fund-Level and Combined Fund Performance Gross and Net TWR plus Net IRR in up to 4 currencies across a wide range of fixed periods (day-, month-, quarter-, year-to-date, since inception, 1-3 year rolling and more).
Asset-Level Performance Computation of returns, weights and contributions at position-level in fund currency including the impact of transactions costs. Also provides multi-asset coverage while incorporating contributions from earned income, support for short positions and internal transfers.
Market Segment Performance Aggregation of position contributions by geography, strategy, sector and user-definable security attributes.
Benchmark Comparison Fund vs. benchmark performance charting and benchmark-relative excess return measures such as Excess Return Proportion.
Fund Analytics Incorporates Standard Statistics, (Alpha, Beta, Volatility, Correlation, R-Squared), Standard Ratios (Sharpe, Sortino, Treynor, Jensen, Information Ratio) and more.
Historic Performance Measurement Import of historical accounting and benchmark data for performance measurement since inception. Or, pull in a partial accounting history for measurement from a fixed start date.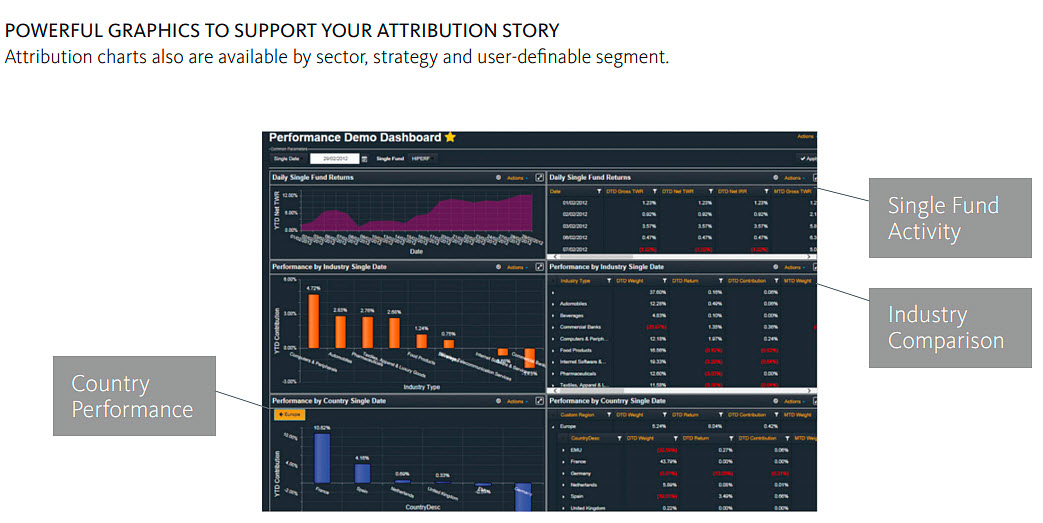 Simplify Performance Reporting
Turnkey – Plugs it into your firms existing infrastructure, with no need to redesign systems.
Integrated – Provides the industry's only performance reporting solution that is fully integrated with leading software for order management, portfolio management and risk management.
Transparent – Obtain comprehensive performance metrics enhancing transparency and enabling you to deliver everything a consultant or investor requires for fund due diligence and periodic reporting.
Timely – Results are automatically updated overnight and available T+1, with automatic backdated corrections.
Customizable – Set reporting time periods, from a single day to since-inception. You also can define what is included in fees, for calculating performance-net-of-fees.
Advanced Performance Reporting
Dashboard & Mobile Data Warehouse Reporting Displays data directly from Broadridge's Analytics Master's Data Warehouse while conveniently accessing all reports through Report Manager, Broadridge's web and mobile-based dashboard application.
Standard Performance Reports Presentation quality outputs for Fund vs. Benchmark, Performance by Segment, Best/Worst Performers and Contributors.