Increase Your Efficiency and Productivity – Exponentially.

Leading provider of operations outsourcing and managed services to financial services firms for over 15 years.
Broadridge BPO operating model was developed under SEC and FINRA scrutiny.
Clients have a real-time view into their outsourced operations through management and operations dashboards.
Business continuity and follow-the-sun support using highly experienced operations professionals across seven locations worldwide, including the US, Europe and India.
Broadridge AIVision, a supervisory tool for monitoring and governing digital labor, is part of our BPO services. This automation level allows Broadridge to be more cost-competitive in the market while helping identify and mitigate risk.
Expertise That Scales To Your Needs
The buy-side is in an era of intense change. Operating in today's competitive capital raising environment requires the ability to pivot on a dime. Broadridge empowers you to focus on investing instead of technology and operations. Create and simplify the structure that gives you the agility to drive innovation, go lean when you need to and capitalize on every opportunity – customized based on your firms specific needs. Set your business on the path to long-term success.
From The Middle To The Back Office, A Functional Scope Of Services
Our solution is technology agnostic, with clients leveraging Broadridge's award-winning technology stack, other industry solutions or proprietary platforms. We design and operate a solution that streamlines your internal systems and processes using one or a combination of our technology and services. We empower your firm to leverage the industries latest technology – without having to build or maintain it yourself. Now you can grow, scale and increase your team without adding headcount – our team is your team.
Broadridge has transitioned over 1,500 roles from our clients to our team with our proven onboarding and project management capabilities and standardized processes.
We ensure controls are in place for enterprise-wide business monitoring to enhance our risk management controls.
We provide our clients with direct access to all levels of management, in addition to a dedicated Broadridge account manager.

Be Ready For What's Next When You're Part Of The Broadridge Expert Services Network.
A strategic partnership with Broadridge helps clients transform, innovate and gain transparency. Become part of the expansive Broadridge network, where each client benefits from leading technologies, world-class operations, an expert network, best practices, scale, and mutualization of compliance cost and innovation investments. Broadridge Business Process Outsourcing (BPO) offers the most awarded functional scope of services for clients across Asset Management, Capital Markets, and Wealth Management.
Reduce Cost. Save Time. Achieve Better Outcomes.
Broadridge clients benefit from our years of industry knowledge and our deep bench of operational experience. Leveraging the skills and experiences of a team of Broadridge associates can enable smarter decisions regarding software investments and brings value to the organization by making the most of utilization, creating efficiency, and reducing costs and risks associated with software and operations. Below is a sample of our BPO offering: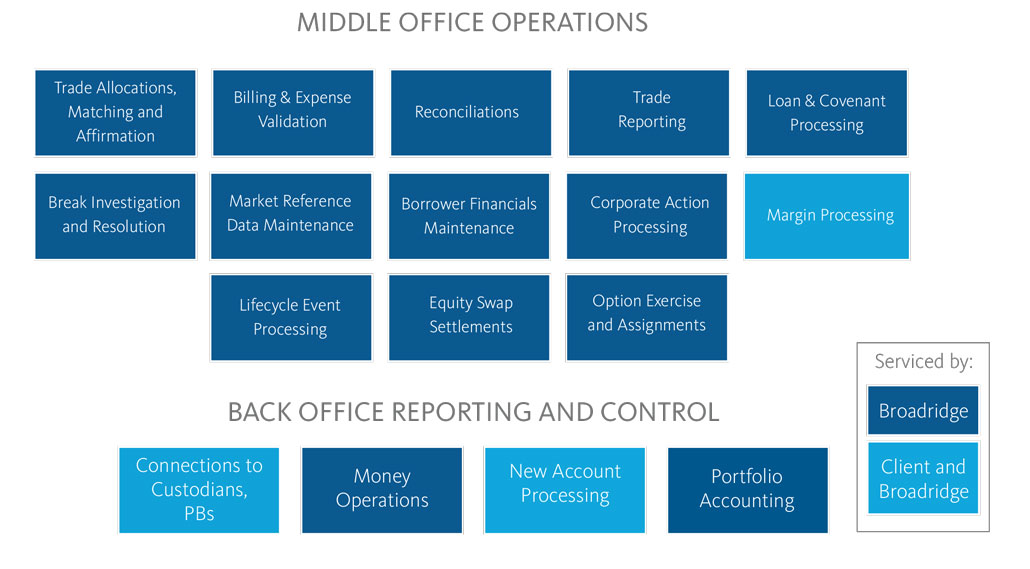 Clients look to Broadridge for solutions that help enhance performance, increase efficiency, mutualize costs, and sharpen their focus on serving clients or shareholders. Our BPO team is why our client satisfaction and loyalty ratings rank among the highest in the industry.