"Getting off the ground quickly with a Securities Finance project does not need to come at a high price. Finding the right partner with experience in your business domain and proven technology gives you all the pieces you need for your 'FastStart' solution."
Are my needs complex?
In most firms, senior management understands that a holistic view across all business lines is intrinsically important, not simply for the operation of securities finance, but for the overall optimisation of the balance sheet firm-wide. Securities and Cash often live in separate silos, with their risk profiling existing elsewhere. These silos include treasury, liquidity, fixed income and equities securities finance, repo desks, prime brokerage, credit trading and collateral management.
Therefore, the crux of the challenge of installing an integrated system for Securities and Cash-based collateralised businesses is the sheer number of systems that need integrated. It's a challenge - especially when attempted around a "sticky" legacy platform core - which is why it's rarely achieved fully.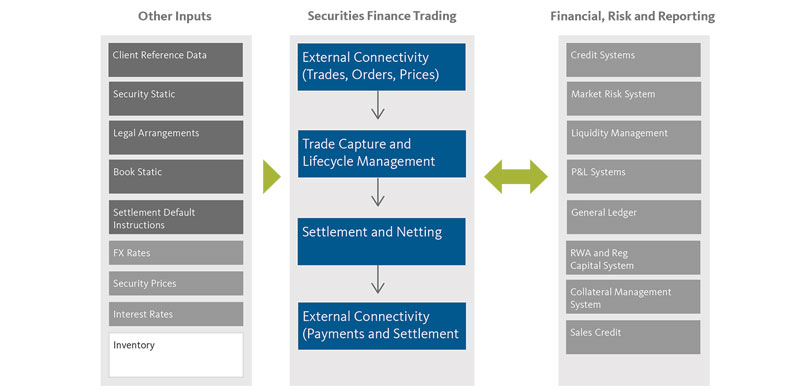 Fortunately, Broadridge's years of experience and our flexible ETL API for system integration mean that no client's infrastructure is too intimidating, regardless of how complex it might appear. And, now, with our new FastStart program we can deliver a clean Securities Finance and Collateral Management (SFCM) platform "blank canvas", deployable in as little as two weeks. It's the core foundation that a Securities Finance platform requires to simplify and streamline transactions and processes at a low pricing point and with basic integration.
Now, ask yourself the question again: "Are my needs really that complex?"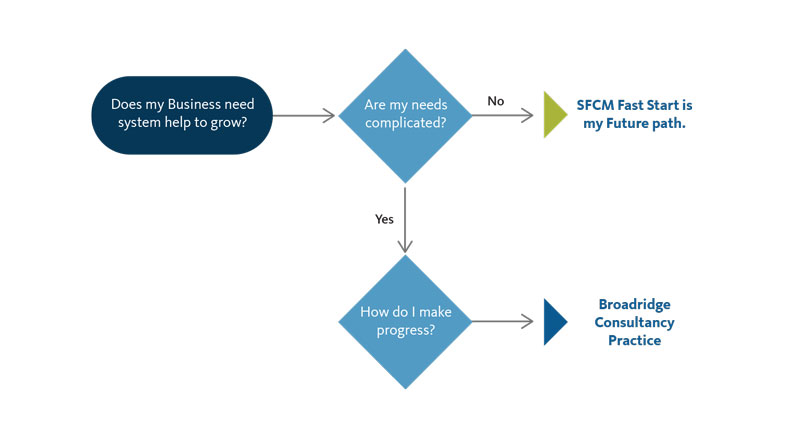 It's worth thinking deeply about this because the actual root level of complexity may be due to legacy issues, tech limitations, or a need to strip back and rebuild static data. Reviewing true complexity with a clean SFCM platform may be the way to see the wood for the trees.
Does it need to be complex? Sometimes yes.
Where the answer really is "Maybe" or "Yes", a cost-effective and rapid shift to a more efficient SaaS platform, combined with our consultancy practice knowledge and the ability to apply it to your problem areas is the right solution. We help cut through complexity to its core - the difference between fast & efficient vs. slow & painful progress. Which one would you prefer?
Being able to think front-to-back and having a holistic view of capital markets from both a business and technology perspective means the work we are called upon for goes far beyond system integration. A better description of much of our work is "solution design".
We work with clients to create new infrastructure, new business processes and sometimes completely new businesses, allowing us to attract highly-skilled talent. SFCM is fully front-to-back in functionality, for buy and sell-side alike. Having completed over 50 client rollouts, we see the big picture and can tame complexity.
As a result, Broadridge has an established global consulting practice that provides a range of expert professionals to serve as designers, project managers, business analysts, project management office (PMO), developers and testers. In the current climate, this is proving an essential service, with Broadridge providing Project Augmentation and Testing-as-a-Service, bringing our clients the ability to rapidly deliver on their business plans and meet their financial objectives.
This consultancy expertise, combined with a FastStart platform creates a clean, cost-effective live evaluation testbed with no legacy baggage. It's a starting point to build a new business or a way for smaller players to access a state-of-the-art platform previously out of reach due to high price points. Firms can get the help needed to scale it where and when they want, to their budget and ROI expectations.
Does it need to be this complex? No.
When the answer is "No", a cost-effective, rapid shift to an efficient SaaS platform like SFCM FastStart could very well be the solution. This is simplification and streamlining in action.
When you are at the smaller end of the market or starting a new Securities Finance business line from scratch, there is a tendency to assume you may need to compromise on a solution because they're typically too expensive to spin up. One thing is true - there is a core Securities Finance competency required whether you're running a book of 10 trades on a single site, a global book of 100,000, or if you're evaluating a change in your business model. We're here to tell you that acquiring this competency does not need to be expensive, and it doesn't need to be complex.
Having run a start-up myself, I know how important it is to put in the right system in the right way on the right architecture. Budgets don't allow for costly refactoring of the consequences of bad choices, and levels of integration can be kept low without increasing FTE headcount.
The point of SFCM FastStart is to provide this core competency, get the foundations right (but on a lighter footprint), provide a solid basis of training, and then build on it and scale it up with additional modules, integration and automation when needs and budgets allow.
So, what does SFCM FastStart provide?
FastStart is exactly what it says on the tin: you can start a new SFCM platform fast. Use it to begin your Securities Finance business, or to replace macros and Excel where they limit growth. Build a new business line with a clean platform or use it to find the effective route to a legacy lift-out.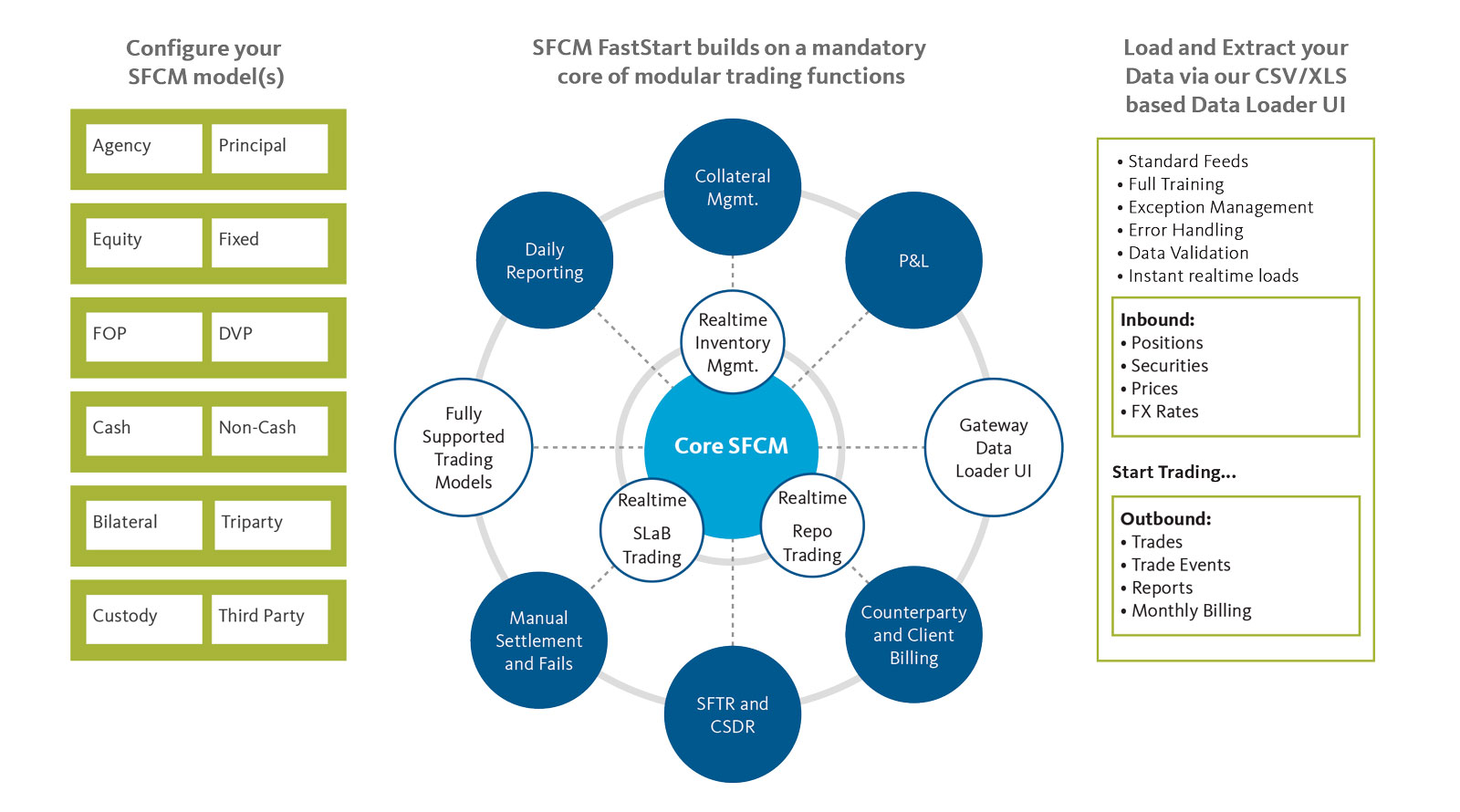 What are the FastStart Benefits?
FastStart provides:
Price: Low entry point, attractive monthly cost
Terms: Accessible month-to-month contract in initial period
Speed: FastStart can be spun up in as little as 2 weeks for up to 6 users
Simplicity: UI-based, on-demand ETL & data management toolkit
Core: Trading, Inventory & Collateral Management, Billing, Reporting, P&L for Repo and SBL
Infrastructure: 'All in' Broadridge AWS SaaS, DR, BCP, Support and Managed Service
Scale: Expand to Full Service SFCM in 4 key areas:

Cost – pay for expansion points only when requirements and budgets allow
Integration – hook into where you need, for what you need, when you need it.
Modular growth – use only the parts of SFCM you need, when you need them.
Knowledge – Combine FastStart with Broadridge Consulting Services experts.