Insight 1: Print communications are favored over digital.
More than 50 percent of baby boomers prefer to receive the following communications in print: enrollment renewal/confirmation, premium bills, benefit booklet and explanation of benefits (EOBs). In fact, boomers prefer these communications in print by an average of 28 percent over millennials!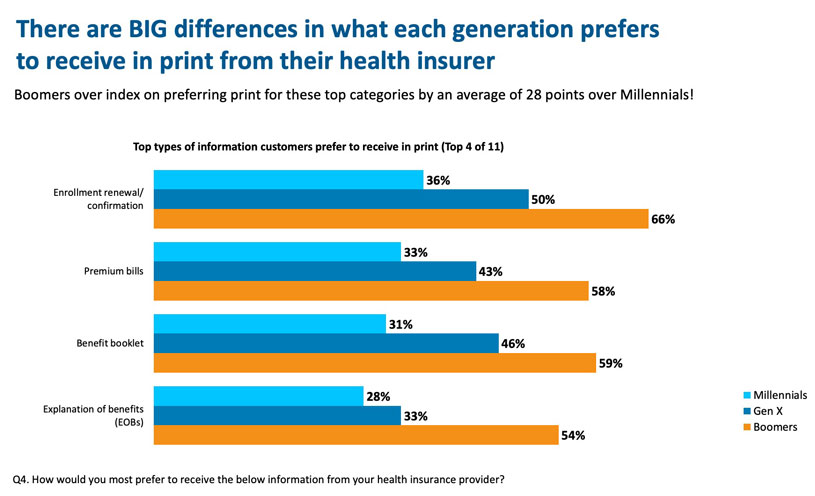 When it comes to EOBs and monthly bills, print is also the preferred delivery method across all generations, with email as the second most preferred.
Print is an important part of the communication mix, but there's an opportunity for insurers to grow paperless adoption across all generations. Many insurers send an email notification when an EOB is ready, requiring the member to log in rather than providing the EOB directly to the member through secure email. By leveraging secure email, which adheres to HIPAA requirements, insurers can deliver information to the member where they are versus making the member come to them. Providing members with a frictionless experience can increase digital adoption.
Insight 2: Members know what they want to receive digitally.
Another way to increase paperless adoption is to prioritize the communications members want to receive digitally. Members are most interested in receiving these communications digitally: how claims are covered/what I owe (EOB) followed by a provider directory, general coverage/service information, benefit booklet and premium bills. While EOBs and bills made the digital list, they were also ranked as being highly desirable in print. This may be because of "double dippers" – those who get both print and digital communications. Regardless of the delivery channel, providing communications in the members' preferred format can set one insurer apart from another.
Ready for more?
Insight 3: Members are satisfied with digital communications, but millennials desire better content and quality.
Fifty-six percent of all Americans across generations are satisfied or very satisfied with their options for digital health insurer communications, but millennials are the least satisfied when it comes to the content and quality of these communications. This Fifty-six percent satisfaction rating is noteworthy. Considering that 93 percent of survey respondents said communications are an important factor in selecting and re-enrolling with their health insurance provider and the incredible investment insurers are making in their digital platforms, this finding underscores the need to improve upon these critical communications and the digital experience.
Insight 4: Insurers can grow digital adoption by delivering communications to the Cloud.
One in four survey respondents are interested in cloud storage, like Google Drive and Dropbox, for receiving health insurance communication. Millennials indicated they are the most interested at 38 percent. Insurers can look to the Cloud to help them overcome their paperless adoption plateau.
Insight 5: Members read and save what insurers send.
With premium bills and EOBs as the highest volume communications that insurers send, we wanted to find out what members do with these communications. A staggering 94 percent of members read or skim these documents and 70 percent save a copy for their records. Insurers can capitalize on these touchpoints by making them personal (e.g., promoting behavioral changes, using them for marketing purposes, etc.)
Insight 6: Members prefer to pay via autodraft.
When it comes to paying their monthly health insurance bill, members prefer to pay by auto-draft through their bank followed by online monthly through their insurer's website/app, online monthly through their bank's website/app, and, lastly, through the mail. The 16 percent that prefer to pay through the mail are making the process slower and more expensive for insurers. Rather than putting a "pay online" message on the invoice that may get overlooked, insurers can add an insert in the envelope that promotes digital payments. Online banking is another opportunity to grow digital payments; plus, members who get their bills delivered to their bank pay them faster, which is often attractive to insurers.
These insights point to the need for insurers to meet members where they are – print, digital, the Cloud. To find out more about member communication preferences, download our report or view our on-demand webinar, "Uncovering Member Insights: The Power of Strategic Health Insurance Communications."