Benefits of working with Broadridge:
Grow Your Business – turnkey marketing solutions from websites to social media marketing seminars and newsletters to engage your clients and grow your business.
Fiduciary Education and Tools – fulfill your responsibility to the fiduciary standard of care with Fi360's education and then designation programs and implement a prudent investment process through Fi360's industry-leading software tools designed to help you strengthen Plan Sponsor relationships and win more business.
Independence – we don't compete with you for retirement plan business like other firms that may also act as recordkeeper, employ an Advisor salesforce, or offer investment management services and proprietary products.
Open Architecture – you can select the retirement plan investment line-up from over 30,000 mutual funds, collective investment trusts and ETFs with no proprietary or required funds.
Qualified and Non-Qualified Plans - we can help you manage traditional qualified plans such as 401(k), 403(b), Profit Sharing, Defined Benefit and Cash Balance plans, as well as Health & Welfare and Non-Qualified plans.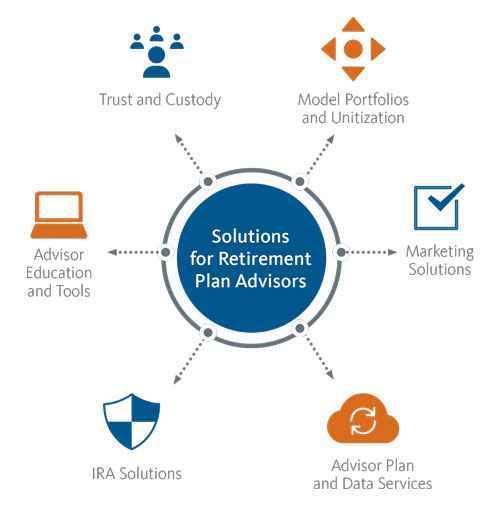 Marketing Solutions
Broadridge is a premier provider of Advisor marketing and practice management solutions.
Advisor Websites
Seminars / Webinars
Intelligent Prospecting
Search Engine Marketing
Newsletters
Digital Lead Optimizer
Digital Advertising
Print Marketing
Practice Management Toolkit
Email & Social Marketing
Event Marketing
eCards
Trust and Custody
The Matrix Trust Company, part of the Broadridge family of companies, provides independent trust and custody services for the retirement plans you manage. Matrix Trust can also serve as a directed trustee or custodian for qualified, or non-qualified retirement plans with assets held at an outside custodian/brokerage firm. We aggregate, reconcile and process trust and custodial transactional data in a highly automated environment.
Paying Agent Services: Matrix provides recurring benefit payments, one-time lump sum payments and associated tax reporting, withholding and remitting for defined contribution, traditional pension, cash balance, and non-qualified plans.
Audit Controls: Matrix Trust Company retains an independent, certified public accounting firm to conduct SSAE 18 SOC-1 internal audits of its procedures and controls.
Advisor Plan and Data Services
We help streamline your management of retirement plan assets across your practice in multiple ways.
Retirement thought leadership, webinars and Advisor Help Desk available year-round
Automated payment options for both commissionable and fee-based business
Ability to deliver monthly data files to broker-dealers and data aggregators
Online access to account information including investments, balances, performance and revenue
Connectivity with hundreds of recordkeepers and outside custodians to support assets held away
Model Portfolios and Unitization
We deliver comprehensive modeling and unitization solutions allowing you to seamlessly deliver model portfolios to your retirement plan clients.
Unitization of Models by Plan through ModelTool(k)it
Model Performance Fact Sheets with Disclosures
Customized Unitized Managed Accounts
Collective Investment Trust Discretionary Trustee Services
Fiduciary Education and Tools
Fi360, a Broadridge company, has 20+ years of experience helping Advisors use prudent fiduciary practices to profitably gather, grow, and protect investor assets. The Accredited Investment Fiduciary® (AIF®) Designation provides education on adherence to the fiduciary standard of care and practical insights to conduct a successful and sustainable business while serving clients' best interests. Held by more than 11,500 Advisors, the AIF® Designation is part of a select list of designations to receive third-party accreditation.
Our software tools help you to implement a fiduciary level of care across your entire book of business. The Fi360 Toolkit, our flagship product, is a web-based software solution that provides the analytical, management and reporting features investment professionals need to administer and document a prudent investment process across your book of business. We have solutions to help address your needs:
Fiduciary Education & Practice Management Training
Advisory Fee Benchmarking
Investment Policy Statement Development
RFP Manager and Provider Database
Due Diligence & Automated Watchlist Management
Stable Value Data and Analytics
IRA Solutions
Our IRA outsourced platform — everyIRA — is a powerful solution that provides access to low-cost institutional funds and trading to help retain assets with the Recordkeeper and Advisor, rather than being transferred to a traditional retail IRA account. Matrix Trust acts as the custodian of the private-labeled Individual Retirement Account and the everyIRA offering includes:
Distribution Processing
Paperless Rollover and Account Documents
Institutional Fund Universe
Turn-Key Participant Account Interface
Paperless Statements
Web Based Access & Tools – PC, Tablet and Phone
Tax Reporting
Call Center Support
Non-Qualified Plans for Key Executives
Matrix Trust can help you establish and manage non-qualified plans and Rabbi Trusts. We offer mutual funds, ETF, company stock, COLI and BOLI servicing and reporting, plus paying agent services including participant tax reporting and a 1041 informational letter. Matrix Trust partners with financial professionals from plan inception through change in control transactions.