What do members think of their insurers' website and apps?
Our survey revealed that 55 percent of members give their insurer's website or app a good rating. However, 25 percent of members are neutral, 5 percent think the website or app is terrible, and 14 percent have never used these digital platforms. This information can be interpreted in one of two ways:
More than half of members like the website.
Almost half of members don't like the website.
How can insurers grow adoption leveraging their existing digital assets?
Considering the website is usually the primary way health insurers offer paperless delivery, it could give us a hint as to why adoption rates are low. It's important for insurers to make it easy for members to retrieve and view communications on their website or app if they want to grow digital adoption. As more members ditch their laptops in favor of their mobile phones, it's important for insurers to create mobile-first experiences and offer more information on their apps. This will give members a level of comfort and convenience.
Ready for more?
How do members feel about their insurer charging for print?
Charging fees for printed communication would persuade half of consumers to switch to digital communications. However, before forcing the move to digital, consider that one-third of members said they would look for a different insurer if they were charged for print communications. That said, there are a portion of members that would pay a fee to keep receiving printed information. Surprisingly, millennials are much more likely than baby boomers to say they would pay the fee for print!
How do members feel about insurers making all communications digital?
Across generations, health insurance members are evenly split on how they feel about health insurers making all communications digital.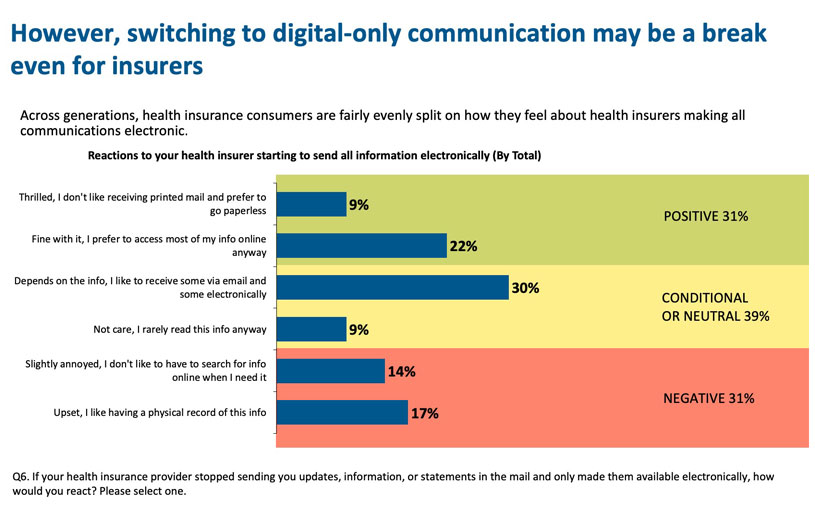 This research shows that print is important to many members, and insurers shouldn't let the financial benefits of forcing members into digital channels overshadow that. Bottom line: insurers could lose members.
How do insurers balance regulatory requirements with members' desire to have personalized, custom content?
Obviously, it depends on the communication – whether it's coming from the DOI or a federal statute. From a digital perspective, there is an opportunity to deliver these communications with relevant, contextual information. It could be in the form of an attachment or part of the actual email experience. The attachment almost becomes secondary to the information that you can create with an interactive email. From a print perspective, inserts and additional mailings that adhere to the regulatory design are often underutilized. For example, Part C and Part B communications must be delivered in an exact format, but sending an insert with the communication can be a way to provide additional information without increasing postage.
To find out more about member communication preferences, including ways to grow digital adoption, download our report or view our on-demand webinar, "Uncovering Member Insights: The Power of Strategic Health Insurance Communications."